Feb. 18, 2015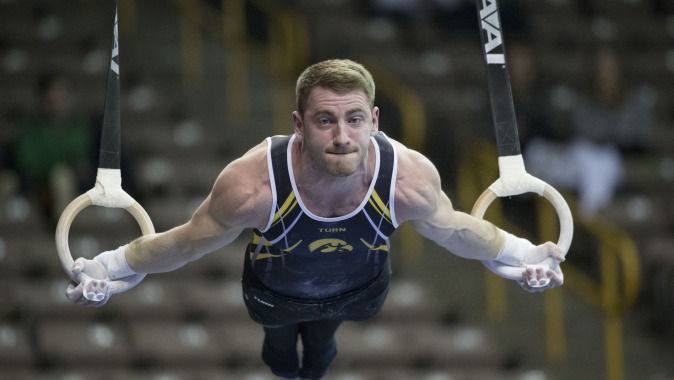 Notes

THIS WEEK:
The University of Iowa men's gymnastics team will send two gymnasts to Las Vegas, Nevada, this weekend to compete in the annual Winter Cup Challange located inside the Riviera Hotel. Juniors Jack Boyle and Matt Loochtan will represent the Black and Gold. Day one of the competition begins at 3 p.m. (CT).
FOLLOW ALONG:
Fans can follow the meet online through a live stream at wintercupchallenge.com/live. A link to the live stream is available on the team's schedule page at hawkeyesports.com.
LAST TIME OUT:
The Hawkeyes (435.500) completed a come-from-behind victory in their final home meet of the regular season inside Carver-Hawkeye Arena against Minnesota (433.600) and Nebraska (420.250). Iowa set six career highs and set a new season high team score. Parallel bars saw three of those career highs. Matt Loochtan (14.800), Dylan Ellsworth (14.500), and Cory Paterson (14.400) all set career bests on the event. Andrew Botto set a new career high on rings with a score of 14.050, Elijah Parsells posted a career high on pommel horse (14.750), and Pateson set another career best on high bar (14.900).
NATIONALLY RANKED:
The Hawkeyes are ranked in the top 10 nationally according to the most recent national ranking list on roadtonationals.com (Feb. 16). The rankings are based on an average of the team's top three scores. Oklahoma reclaimed the top spot over Penn State followed by Illinois, Stanford and Michigan. Iowa moved up to sixth following wins over Nebraska and Minnesota. California and Minnesota are seventh and eighth, respectively. Ohio State drops to ninth and Air Force rounds out the top 10.
1. Oklahoma
2. Penn State
3. Illinois
4. Stanford
5. Michigan
6. Iowa
7. California
8. Minnesota
9. Ohio State
10. Air Force
QUOTING COACH REIVE:
"We use these two weeks that we are off to train super hard," Reive said. "You're getting a bit of focus training and a little bit of recovery, so when we hit the following weekend we can cruise right through the rest of the season and into the postseason. We can always do more. This is a pursuit of perfection. I want to be better and the guys want to be better. We are not trying to show up, we are trying to place top three in the country."
WINTER CUP 2014:
The Hawkeyes sent three gymnasts to the Winter Cup Challenge in 2014. Matt McGrath, Matt Loochtan, and Andrew Botto represented Iowa. Loochtan was the most successful out of the three, finishing 30th out of 78 gymnasts with an all-around score of 79.650. Loochtan tied for 14th on floor (14.450) and 18th on rings (14.050). Botto finished 47th with an overall score of 64.700. He tied for 25th on rings with a 13.850 effort. The final Hawkeye, McGrath, placed 63rd with an overall score of 64.700. McGrath was the only gymnast to compete in the event finals, placing 31st out of 42 gymnasts with a final score of 83.050.
Matt Loochtan:
All-American in 2014 on rings following a seventh place finish (14.925) at NCAA individual event finals.
Loochtan also holds the school record on floor (15.650)
Career high (season high)
-Floor Exercise: 15.650 (14.750)
-Rings: 15.300 (15.050)
-Vault: 14.80 (14.300)
-Parallel bars: 14.800 (14.800)
Jack Boyle
Boyle finished 10th in the all-around (84.650) at NCAA Championships in 2014.
Academic All-Big Ten honoree.
Career high (Season high)
-Floor Exercise: 14.750 (14.750)
-Parallel Bars: 15.000 (14.800)
-Horizontal Bar: 15.200 (14.550)
-Rings: 15.600 (15.400)
SIX HAWKEYES EARN PCA HONORS:
Six gymnasts were recently honored by the PCA (Presidential Committee for Academic Awards) this past week. Cyrus Dobre-Mofid, Andrew Botto, Zach Wendland, Cory Paterson, and Caleb Fischle-Faulk were honored at halftime of the Iowa vs. Maryland men's basketball game on Feb. 8. Each year the PCA honors student-athletes who have achieved a 3.0 GPA and are letter winners. The PCA is responsible for advising the UI President and director of athletics Gary Barta on policies for the University's intercollegiate athletics programs, and recognizes student-athletes for their accomplishments in and out of the classroom.
HAWKEYE FACILITY RENOVATION:
The men's and women's gymnastics teams are amidst a practice facility renovation. Located in the UI Field House, the renovation will provide the gymnasts with more space to practice, and include two new foam pits and another pommel horse. The project will help accelerate the gymnasts' skills and improve safety at the facility. The gym is nearing completion and the teams hope to start training in it by April.
UP NEXT:
The Hawkeyes travel to University Park, Pennsylvania, for a dual meet against No. 2 ranked Penn State on Feb. 27. The event begins at 6 p.m. (CT).
FOLLOW THE HAWKEYES:
Web Address: hawkeyesports.com (see the men's gymnastics schedule page for links to live stats and live streams) Facebook: facebook.com/iowagymnastics Twitter: twitter.com/iowagymnastics YouTube: youtube.com/iowagymnastics Live Stream: wintercupchallenge.com/live