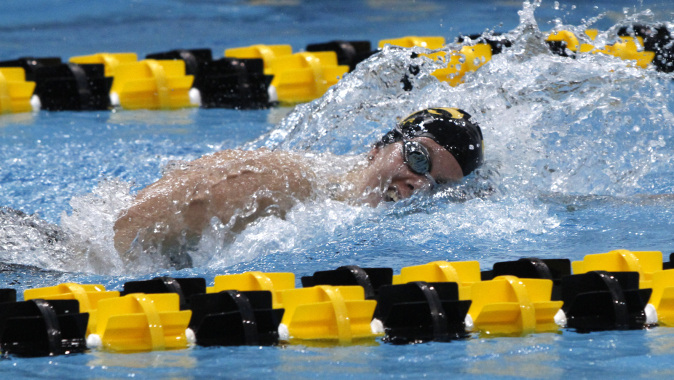 Feb. 19, 2015
Final Results

Columbus, Ohio — The University of Iowa women's swimming and diving team broke three school records Thursday in day two competition at the Big Ten Championships in Columbus, Ohio. The Hawkeyes currently sit in eighth place with 102 points, while Minnesota (232.5) and Michigan (196.5) hold the top two spots.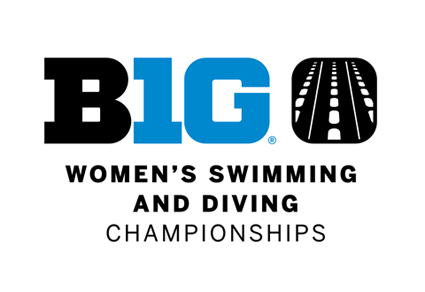 "We had a great day today from a school record standpoint — breaking records in 3-of-4 events. I was happy to see Becky (Stoughton) and Emma (Sougstad) qualify for the 'A' finals and put themselves in position to compete for titles," said UI head coach Marc Long. "We're excited for tomorrow's events and the opportunity to compete for points, titles, and NCAA qualifying times."
Stoughton got the Hawkeyes off to a fast start posting a fifth-place finish in the 500-freestyle prelims with a school record-setting time of 4:40.23 — besting her previous mark of 4:40.82 set in 2012. Later in the finals, she registered 14 points off a fifth-place finish touching out with a time of 4:40.24.
Sougstad added to the broken records with a fifth-place showing in the 200-individual medley. Sougstad came in with a time of 1:58.74, taking down the former record (2:00.42) set in 2013. The Forest City, Iowa, native later collected 11 points off an eighth-place finish in the finals — posting a time of 1:59.70.
In the 50 free, junior Olivia Kabacinski led the Iowa sprinters with a time of 23.24, placing 23rd among the field of 108. Freshman Meghan Lavelle also finished in the top-30, finishing 27th with a time of 23.12.
The Hawkeyes third and final school record came in the opening race of Thursday's finals session — the 200-freestyle relay. Iowa's quartet of Kabacinski, Sougstad, Lavelle, and Mekenna Scheitlin swam to a ninth-place finish touching out with a time of 1:30.96, surpassing the previous record they set earlier this season (1:31.30).
In the diving well, the Hawkeyes' Abby Grilli and Lydia Lehnert competed from the 1-meter. Grilli finished seventh with a personal best scoring 306.70 points. Lehnert was close behind placing 16th after posting a score 279.35.
"Abby did great tonight making the finals and placing seventh, especially after taking the first semester off with student teaching," said UI diving coach Todd Waikel. "To come out and perform in such a high-level meet with such little time to train is really outstanding. Lydia performed well tonight as well and nearly had a personal best. It was exciting to see them do well."
The Hawkeyes return to the pool tomorrow morning for day three of the Big Ten Championships. Preliminaries begin at 10 a.m. (CT) with finals taking place at 5:30 p.m. (CT).