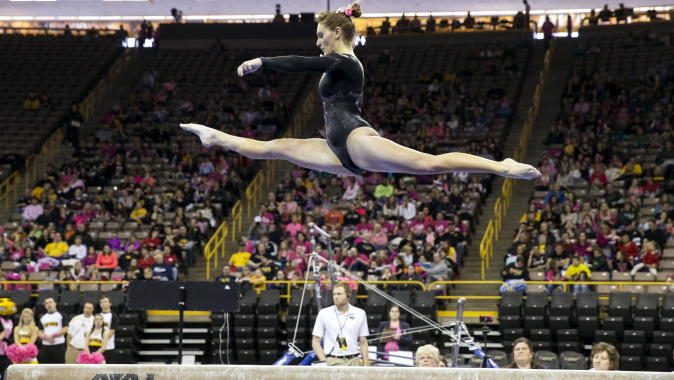 Feb. 19, 2015
By MEGAN ROWLEY
IOWA CITY, Iowa — The University of Iowa women's gymnastics team is beginning to turn heads after posting its season high score of 196.375 against Big Ten foe Illinois on Feb. 14.
The score marks the first time the GymHawks have broken the 196 barrier at home since March 8, 2013 against Iowa State, where they posted the exact same score of 196.375.
"The thing we asked them to do was for each of them to find 1/10 of a point. 1/10 so that they could make themselves better than last week," said head coach Larissa Libby. "Our score last week was 195.1 and this week was 196.375. So mission accomplished."
In addition to their individual goals, attention was focused on vault performance after posting an abnormal score of 48.275 against No. 7 Nebraska the previous week.
"I was mad. I told them we are better than that and we have some work to do," said Libby. "I warmed up 10 different people and told them I needed the six people who would get me a 49 on vault, and that's what we got."
The GymHawks performance on vault resulted in five of the total 10 individual season bests of the night, and a team best score of 49.200. Iowa's vault and final score are not the only big numbers turning heads. The GymHawks are currently ranked No. 26 nationally for the first time since 2012.
"You have to give credit to this team because they step up their game week in and week out. I am so proud of them, I know that people have counted us out and underestimated us, and it's the thing that's in the back of their minds at all times. So I love that they keep putting up big numbers," said Libby. "I think we have a lot more to give and we definitely made some mistakes that cost us. But we will go back, fix them and keep moving forward."
While the GymHawks take pleasure in the rewards of their hard work, the success continues to push them forward and to seek out new goals.
"Going forward, I would like to stay in the 196 range. My biggest thing would be to keep the flow of the meet undisturbed for them. I want to eliminate those moments where obvious mistakes are made. If we can do that and back up the 196, I will be pleased," said Libby. "We are starting to get to the back half of the season and we are getting stronger every day."