Feb. 21, 2015
Final Results

Columbus, Ohio — University of Iowa senior Becky Stoughton capped the fourth and final day at the Big Ten Championships with a Big Ten title in the 1,650-freestyle. Stoughton touched out with a personal best and UI record-setting time of 15:57.43, besting her previous mark of 16:03.42 set in 2012. The Peoria, Illinois, native's first-place finish marks the Hawkeyes' first title since Melissa Loehndorf claimed the 200-butterfly championship in 2001.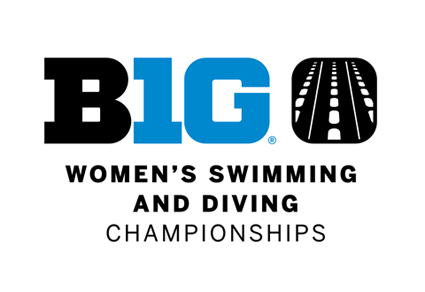 "I'm proud of Becky's performances this weekend," said UI head coach Marc Long. "She battled back, overcame adversity, and had a tremendous senior year at the Big Ten Championships capped off with a thrilling victory in the 1,650-freestyle."
"Coach (Nathan) Mundt did a tremendous job with her training this year and athletic trainer Mike Lawler deserves recognition for his work with her over the years. I'm proud of our entire staff and program this weekend."
Stoughton wasn't the only Hawkeye to swim fast. Freshman Meghan Lavelle finished 21st in the 200-backstroke finals — touching out with a personal-best time of 1:58.15, a mark that ranks third in UI history. Allison Orvis also finished in the top-30 among the field of 59, posting a time of 1:59.43.
In the 100-freestyle prelims, junior Olivia Kabacinski claimed a top-30 finish coming in at 28th with a time of 50.24. Junior Nikol Lagodzinska followed behind touching in at the 51.15 mark and sophomore Serena Wanasek hit the wall at 51.26.
Sophomore Emma Sougstad had an eighth-place showing in the 200 breast finals, posting a time of 2:13.07. Junior Colleen Champa finished shortly after (2:16.19).
In the 200-butterfly, Stoughton added to her Big Ten title with a UI school record in the prelims (1:58.28) and a 16th-place showing in the finals (2:00.74). Tereysa Lehnertz recorded a personal-best time of 2:00.84 and finished 23rd among the field of 50.
The quartet of Kabacinski, Sougstad, Lavelle, and Stoughton capped the swimming events with a 10th-place finish in the 400 free relay. The foursome touched out with a time of 3:21.34.
In the diving well , sophomore Lydia Lehnert shined in the prelims setting a UI school record off the platform. Lehnert dove to a personal-best score of 312.20, besting her previous score of 257.90. The Frederick, Maryland, native finished sixth in the finals, posting a score of 292.40. Senior Calli Head was close behind diving to an eighth-place finish (278.90).
"Lydia was outstanding in the prelims setting a personal-best and school record off the platform. That talent is what we see in practice and I was happy she was able to bring that performance today.
"I couldn't be happier with our girls tonight," said UI diving coach Todd Waikel. "We got two divers in the finals and set a school record which was exciting to watch. It's our goal to get to the finals session and battle once we get there. These girls continue to improve, learn, and grow as divers and I'm happy they've been able to put it all together."
Capping the final day of the 2015 Big Ten Championships, Iowa leaves the four-day event with 10 new UI swimming records in addition to one on the diving end. The Hawkeyes also claim an eighth-place finish with 223 points. Minnesota (618.5) and Indiana (591)were the top finishers.