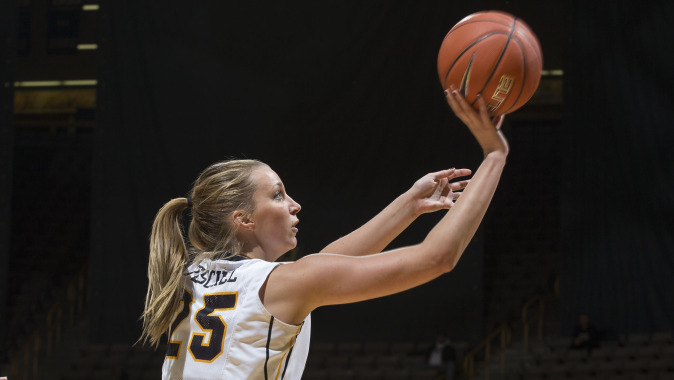 Feb. 22, 2015
Q: What is it like working with coach Bluder and the Iowa coaching staff?
A: It's a great experience. Ever since recruiting, they've been great role models, supporters, and coaches both on and off the court. It's always good having them there knowing they'd do anything for us, basketball-related or not.
Q: Who was the key factor in the recruiting process that led you to Iowa?
A: The coaches had a big thing to do with it, but also the girls and the players here are awesome people and the type you want to surround yourself with. The basketball program here is one of the best in the country and a NCAA contender year-in and year-out. Iowa has a fun campus too, so there are always fun things going on around town.
Q: What facet of your game has improved the most since last year?
A: Confidence; it's something I have been lacking in the past. As an upperclassman, it's expected of me to play confidently with the experience I have. My shooting and defense have also improved.
Q: Is there any significance to the jersey number you wear?
A: I had it high school. I was assigned it in eighth grade; it was just kind of the leftover number.
Q: Who is the most influential person in your life?
A: My parents. They've been lifetime supporters and will continue to be. They've been influential in all my decisions and will continue to be.
Q: What is your first basketball memory as a child?
A: The kindergarten camp I was able to attend that my dad was running. I was all decked out in wristbands and all my basketball gear and so excited for it.
Q: What did you want to be as a kid growing up?
A: I'm from Minnesota so I loved Kevin Garnett and the Timberwolves. I just wanted to be a basketball player.
Q: What is one word that describes you?
A: Hard-working.
Q: Any hidden talents that Hawkeye fans don't know about?
A: I'm a great cook.
Q: What is your favorite place to eat in Iowa City and what do you order?
A: Formosa; I love the sushi and I usually order the Las Vegas roll and the Lion King roll.
Q: Where do you spend your free time?
A: The library or the gym.
Q: What is your favorite home-cooked meal when you go back home?
A: Shrimp alfredo.