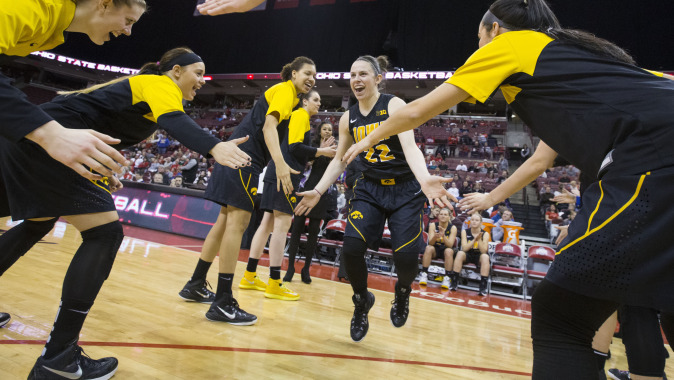 Feb. 23, 2015
Editor's Note: The following first appeared in the University of Iowa's May edition of Hawk Talk Monthly, the UI athletics department's online publication.
IOWA CITY, Iowa — Thinking of attending a University of Iowa women's basketball game? Don't think twice.
The Hawkeyes are off to their best start in Big Ten play in 18 years, and are winning in style, ranking among the national leaders in points per game.
It all starts with senior All-American point guard Samantha Logic. Watching the Racine, Wisconsin, native on the basketball court is worth the price of admission.
"Watching Sam Logic in action is worth way more than the price of a ticket," said UI head coach Lisa Bluder. "You better not take your eyes off of her, or you will miss a magical pass or an unbelievable hustle play."
Logic is tied for the fifth-most triple-doubles in NCAA history (five), and the most by any player as a member of the Big Ten.
The NCAA's active career assists leader (831), she ranks third in assists in Big Ten history. Logic leads the Big Ten and ranks third in the NCAA in the category this season (7.7), while also averaging over 12 points and six rebounds per game.
"She is fun to coach because she is passionate about the game and about competing at the highest level," said Bluder. "She is also a student of the game and knows it so well."
Logic is first in program history in assists, second in steals, fifth in rebounds, and 13th in career scoring, and she is not done yet.
The 5-foot-9 guard is the definition of an all-around player.
"I don't think that I have had the opportunity to coach an all-around player such as Sam, someone who excels in so many different areas of the game and who is such a tremendous leader on and off the court," said Bluder.
Logic has the Hawkeyes poised for a special finish.
"Sam is the leader of this team by virtue of her being our point guard, but also by the way that she plays and leads our team," said Bluder. "She is the coach on the floor and is so intuitive about what is going on the court.
"Sam has raised our recruiting success through her presence and she has elevated our style of play to being one of the most exciting, high-octane, unselfish offenses around."
The 11th-ranked Hawkeyes conclude the regular season at home this week, hosting Wisconsin on Thursday (7 p.m.) and Minnesota on Sunday (2 p.m.).
Tickets are available by visiting the ticket office at Carver-Hawkeye Arena, calling 1-800-IA-HAWKS, or online at hawkeyesports.com.