Feb. 26, 2015
Results | Photo Gallery

| Thursday Results

|

Photo Gallery (Session II)
IOWA CITY, Iowa — The University of Iowa men's swimming and diving team broke the 400-yard medley relay school record Thursday night at the Big Ten Championships in Iowa City, Iowa. Iowa's foursome of Grant Betulius, Roman Trussov, Jerzy Twarowski, and Jackson Halsmer recorded an NCAA `A' cut time, touching out with a time of 3:08.56.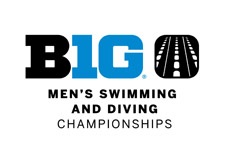 The Hawkeyes currently sit in ninth place with 83.5 points, while Michigan (281) and Ohio State (211) hold the top two spots.
"From the swimming aspect, we swam really well tonight," said UI head coach Marc Long. "We wanted to get an NCAA `A' cut and a school record in the 400-yard medley relay. We got that, but we also got fifth place and we'd like to place higher. There's still some hunger there because we know we can go faster in it.
"We've got a lot of racing tomorrow, and we're excited to get back in the pool. There's going to be a lot of opportunities for individual scoring and we're ready to take advantage of it."
Kyle Gannon opened the finals session with a 15th-place showing in the 500-yard freestyle. The Saint Charles, Illinois, native scored two points for the home team in the 'B' final after touching out with a season-best time of 4:22.76. Chris Dawson competed in the 'C' final posting a season-best time of 4:23.27.
In the 50-yard freestyle, four Hawkeyes — Jackson Halsmer (20.05), Brandon Farnum (20.31), R.j. Hemmingsen (20.31), and Charles Holliday (20.50) — represented the Black and Gold in the finals session. Halsmer led the pack scoring 2.5 points off a 14th-place-tying finish.
The quartet of Betulius, Trussov, Twarowski, and Halsmer wrapped up the swimming events in the 400-yard medley relay. The foursome punched their ticket to the NCAA championships with an NCAA `A' cut and school record time of 3:08.56. The Hawkeyes placed fifth among the field.
In the diving well, Addison Boschult led the Hawkeyes off the 1-meter diving to a consolation 'B' final-qualifying score of 309.65. Matt Mauser (294.95) and Brandis Heffner (286.50) followed behind placing 18th and 23rd.
In the 'B' finals, Boscholt had an eighth place showing, diving to a score of 293.80.
"I was happy with Addison's performance," said UI head coach Todd Waikel. "This is the first time he's made any kind of a final on the 1-meter. Unfortunately he hit the board on one of his dives in that finals session, but he came back strong and finished the set with his best dive of the day.
"Tomorrow we'll pick up and keep grinding. I told the guys there's no holding back at that point. We seemed a little cautious today, but we're past that. We've trained all year for this and put in the work. It's time to go out and show it."
The Hawkeyes return to the pool tomorrow morning for day three of the Big Ten Championships. Preliminaries begin at 11 a.m. with finals taking place at 6:30 p.m. (CT).