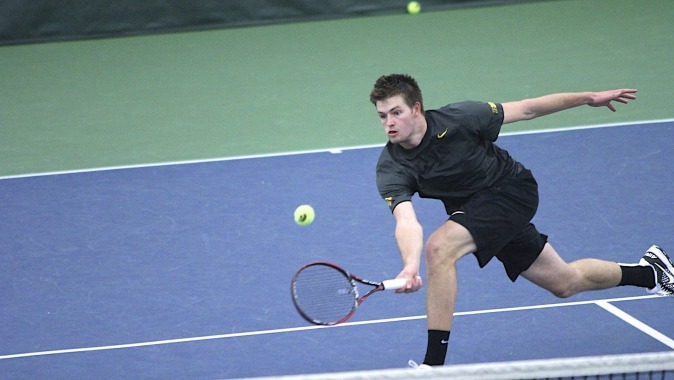 Feb. 26, 2015
THE UNIVERSITY OF IOWA MEN"S TENNIS TEAM CRACKS TOP-75
The recent team rankings released on Feb. 24 has seen Iowa jump from unranked to No. 57th nationally. The Hawkeyes were last ranked over a year ago on March 25, 2014. Iowa is (7-1) on the season and has defeated the likes of Wichita State, then No. 54 Utah, BYU and Yale. Sitting on a five-match winning streak, the team has an opportunity to ascend even higher up to rankings with this weekends' matches against No. 29 Drake and No. 75 Louisiana-Lafayette.
Matt Hagan MOVES UP SINGLES RANKINGS
Hagan continues to move up the ITA singles rankings. The preseason rankings on Jan. 6 had Hagan 116th. The recent rankings also released on Feb. 24 has seen Hagan climb 37 spots to 79th. With Iowa leading Wichita State 3-2, Hagan defeated No. 39 Tin Ostojic in a thrilling, three-set victory at the No. 1 position, 4-6, 6-3, 7-5. The win sealed a 4-2 win and the teams fifth-straight victory.