Feb. 5, 2015
Results | Photo Gallery

| Friday Results

|

Photo Gallery (Prelims)
IOWA CITY, Iowa — The University of Iowa men's swimming and diving team wrapped up day three at the 2015 Big Ten Championships inside the Campus Recreation and Wellness Center Natatorium in Iowa City, Iowa. UI junior Roman Trussov highlighted the day's competition with a school record in the 100-yard breaststroke, touching out with a time of 52.85. Trussov was one of three Hawkeyes to compete in the `A' championship finals Friday night, joining Jerzy Twarowski in the 100-yard butterfly and Grant Betulius in the 100-yard backstroke.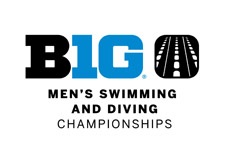 The Hawkeyes currently sit in eighth place with 151.5 points, while Michigan (529) and Ohio State (448) hold the top two sports.
"It's a strange meet and we're getting some great swims from every team," said UI head coach Marc Long. "As a team, we might have the biggest group we've had in the NCAAs since Glenn Patton was here. It's important to look at the number of records and NCAA qualifiers we've had this season.
"A meet like this will always have world-class swimmers involved in it. I'm proud of this group and we're excited to get back at it tomorrow."
The quartet of Jackson Halsmer, Betulius, Charles Holliday, and Brandon Farnum opened Friday's finals session in the 200-yard freestyle relay. The foursome shared an eighth-place finish with Northwestern's relay team — touching out with a time of 1:19.38.
Freshman Chris Dawson had a strong showing in the 400 IM, swimming to a third-place finish in the `C' final. Dawson touched out with a career-best time of 3:52.37 to finish 19th overall. The Centennial, Colorado, native's time ranks fourth all-time in UI history.
In the 100-yard butterfly prelims, R.J. Hemminsen (48.29), Chris Freeman (47.29), and Twarowski (47.04) represented the Black and Gold. Twarowski led the pack bringing home a seventh-place finish, coming in at the 47.16 mark in the `A' finals.
Kyle Gannon led the Hawkeyes in the `C' final of the 200-yard freestyle, posting a time of 1:37.35. David Ernstsson (1:38.18) and Thomas Rathbun (1:38.50) touched in shortly after.
In the 100-yard breaststroke championship finals, Trussov finished seventh, touching out with a time of 53.06 following a UI school record-setting time of 52.85 in the prelims. Mike Nelson also recorded an NCAA `B' cut time of 54.75 to finish 18th among the field.
Betulius capped the swimming events with a seventh-place finish in the 100-yard backstroke championships finals. The Naperville, Illinois, native touched out with a time of 46.67.
In the diving well, Addison Boschult and Matt Mauser qualified for the consolation-finals off the 3-meter. Boschult scored five points for the Hawkeyes, diving to a 12th-place finish with a score of 348.30. Mauser followed with an additional two points off a 15th-place showing, diving to a personal-best score of 329.05.
"It was exciting to get those guys into the consolation finals," said UI head coach Todd Waikel. "Addison has never made the finals of any kind off of the 3-meter. Having Matt come out as a freshman and have the performance he did was outstanding. There's more to come and I'm excited about his future, he's got a bright one ahead of him.
"We've got the tower tomorrow and we're ready to leave it all out there."
The Hawkeyes return to action tomorrow morning for the final day of the Big Ten Championships. Preliminary events begin at 11 a.m. (CT) with finals taking place at 6:30 p.m.