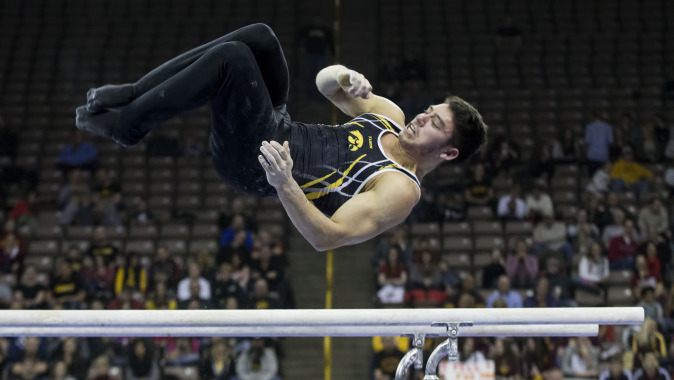 Feb. 27, 2015
PDF Results

IOWA CITY, Iowa — The No. 6-ranked University of Iowa men's gymnastics team traveled to University Park, Pennsylvania, for a Friday night meet at No. 2 Penn State. Despite a setting a season-high team score, the Hawkeyes fell to Penn State 435.750 to 440.800.
"It was a fun, competitive meet," head coach JD Reive said. "We did our job tonight. The big thing was that it was our first five up- five count meet. It just shows that every team makes mistakes and we can keep up with anybody. We had our shots tonight and didn't capitalize, but overall it was a great meet for us."
Doug Sullivan led the Hawkeyes on pommel horse, clinching a third place finish with a score of 14.850. Elijah Parsells followed in fourth place, tying a career high with a 14.750. Austin Hodges finished with a 14.400 effort.
Three Hawkeyes set season bests on floor exercise. Matt Loochtan grabbed third place following a 15.350 effort. Jack Boyle scored a 15.000, earning him sixth place, and Lance Alberhasky (14.750) finished eighth. Iowa set a new season high on the event with a 73.350. After two rotations Penn State led Iowa 147.000 to 144.650.
The Hawkeyes moved to vault on the third rotation. Loochtan claimed the event title following a score of 14.950. Andrew Botto finished third place and set a new season-high on the event with a 14.750. Will Albert tied for fifth place, posting a score of 14.500.
Botto and Albert led the Hawkeyes on rings, both scoring a 15 on the event and tying for third place. Alberhasky (14.950) set a new season-high, earning a sixth place finish. After four rotations, the Hawkeyes kept it close, trailing by 3.75 going into the fifth rotation.
With two rotations remaining, Iowa moved to high bar. Boyle scored a season-high 14.900, finishing first place. Cory Paterson (14.700) finished second place and Del Vecchio Orozco (14.350) finished fifth as the Hawkeyes set a new season-high on high bar (71.850).
Iowa concluded the meet on parallel bars but couldn't keep up with the Nittany Lions. Cyrus Dobre-Mofid finished first place following a career-high 15.250. Boyle posted a 14.700, finishing sixth place, and Loochtan finished eighth with a 14.550 effort.
The Hawkeyes continue their road stretch with a meet in Minneapolis on March 7. The competition begins at 7 p.m. (CT).