Feb. 28, 2015
Complete Results | Photo Gallery

| Complete Results

|

Photo Gallery (Prelims)
IOWA CITY, Iowa — The University of Iowa men's swimming and diving team completed the 2015 Big Ten Championships Saturday night inside the Campus Recreation and Wellness Center Natatorium in Iowa City, Iowa. A school records from junior Roman Trussov in the 200-yard breaststroke highlighted the final night of competition.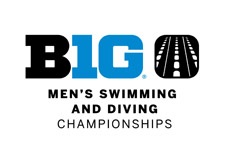 The Hawkeyes finished eighth among the Big Ten Conference after scoring 230.5 points. Michigan won the title with 760 points and Ohio State (623) finished second.
"I'm proud of the team for the effort we had today," said UI head coach Marc Long. The main thing to take from this meet is the number of lifetime performances we had. We're going to have one of the largest numbers of athletes competing in NCAAs this year and that's something to be proud of.
"To be going to the NCAAs with the groups we have is exciting at this point. We're shooting to place in the top-20 and top-25 in those races and we'll be going up against some world class athletes. It's an exciting meet and we'll be ready for it.
Freshman Chris Dawson opened Saturday night's finals competition with a breakout performance in the 1,650-yard freestyle. The Centennial, Colorado, native touched out with a career-best 15:12.17, receiving seven points off a 10th-place finish.
In the 200-yard backstroke, Andrew Parker (1:44.52), Chris Freeman (1:44.52), and Grant Betulius (1:44.82) represented Iowa in the `B' final. Freeman and Parker tied for fourth, scoring a combined nine points off the 12th-place-tying finishes. Betulius also accounted for three points, finishing 15th overall.
Roman Trussov led the Black and Gold in the 200-yard breaststroke `A' final, finishing fourth with a UI record-setting time of 1:54.57. Mike Nelson (1:59.64) and David Ernstsson (1:59.73) also represented Iowa in the `C' final going 5-6.
Freshman Jerzy Twarowski had a strong showing in the 200-yard butterfly `B' final, bringing home a third-place finish after touching out with a time of 1:46.49. Twarowski finished 11th overall.
The quartet of Jackson Halsmer, Betulius, Brandon Farnum, and Ernstsson capped the swimming events, representing Iowa in the 400-yard freestyle relay. The foursome touched out with a time of 2:56.62 and placed seventh among the field.
In the diving well, the Hawkeyes were led by Boschult who gathered 13 points off a sixth-place finish on the platform with a score of 387.20. The Omaha, Nebraska, native dove to a score of 394.55. Freshman Matt Mauser also had a big night, qualifying for his first-ever consolation finals with a career-best score of 291.55 in the prelims. In the finals, Mauser finished with two points off a 15th-place finish.
"I'm really proud of both our guys today making it to the consolation and finals," said UI diving coach Todd Waikel. It's a testament to the work ethic they put in each day and I couldn't be happier for the two of them.
"To be in that caliber of field is great for Addison. He did great at winter nationals and we've been working towards this point. It was great to see him on the platform in the finals tonight.
The Hawkeyes return to action Sunday morning, taking part in the Big Ten Long Course Intrasquad meet. Competition is set to begin at 10 a.m. (CT).