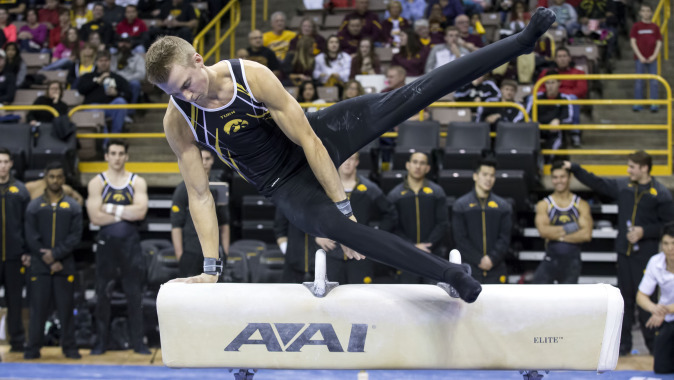 Feb. 28, 2015
BY JACK ROSSI
IOWA CITY, Iowa — In 2012, Doug Sullivan joined the University of Iowa men's gymnastics team with the goal of making the squad as a walk-on. Three years later, the junior has become one of the best gymnasts on pommel horse in the country.
Sullivan is ranked fifth nationally on event with a top three score average of 15.033. The pommel horse specialist has taken home three event titles and has yet to finish outside of the top two in any meet this season. Sullivan also holds the Iowa school record at Iowa at 15.250.
UI head coach JD Reive first saw Sullivan fully focused following the end of last season.
"At the end of his sophomore season, he made finals at Big Ten Championships with a good routine," Reive said. "It was enough to motivate him to come back into the gym and work tirelessly. He earned the right to compete with some of the highest start values."
In an event that has been a problem for many teams in recent years, pommel horse specialists that focus on one event may serve as a remedy.
"There are so many variables in pommel horse," Reive said. "That is why it's the event a team will miss the most and fall off. It takes around five times more effort and time to be good at that event than another event. It's an event that guys can camp out for hours at a time."
Using the same formula as with Sullivan, Iowa brought in freshman Elijah Parsells to act as another specialist and learn from Sullivan.
"I hope they look up to me in a sense," Sullivan said. "If they are ever nervous or having trouble with something, I want them to know they can come to me for help."
The Hawkeyes hope to pass the torch to Parsells in the future, the coaches want him to learn from Sullivan, and they already see a lot of potential in him.
"I want Elijah to see how much work and discipline it takes to be that good," Reive said. "Parsells is already ahead of (where Sullivan was). He could be a pommel horse champion and it could happen in his sophomore year if he works as hard as Doug, but he'll have to beat Doug, too."
Iowa views gymnasts like Sullivan as a blueprint to a successful pommel horse rotation, which has been a recruiting tool.
"Everybody knows who the best kids are," Reive said. "If we are going to be competitive, we are going to have to find people like Doug. We aren't Oklahoma with a historical background. I have to find these guys and teach them that they can be amazing gymnasts."