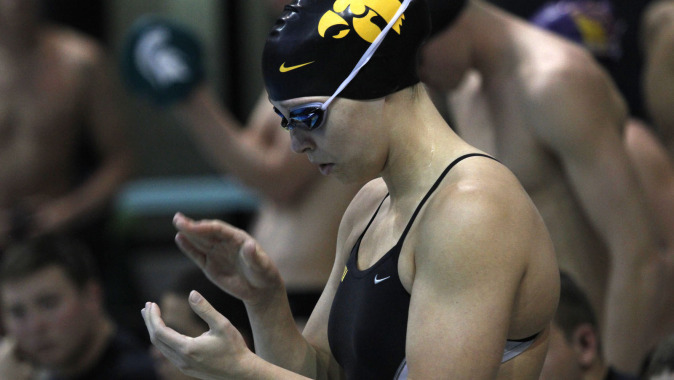 March 4, 2015
IOWA CITY, Iowa — Two University of Iowa swimmers have been selected to compete in the 2015 NCAA Women's Swimming and Diving Championships at the Greensboro Aquatic Center in Greensboro, North Carolina, it was released Wednesday by the NCAA. Iowa last sent a pair of swimmers to the NCAA Championships during the 2011-12 season.
Senior Becky Stoughton will represent the Hawkeyes in the 200, 500, and 1,650-yard freestyle events. The Peoria, Illinois, native enters the championships ranked 12th-nationally in the 1,650 free (15:57.43), 18th in the 500 free (4:40.23), and 22nd in the 200 freestyle (1:45.47). The 2015 NCAA Championships will mark Stoughton's second appearance after earning honorable mention All-America honor as a freshman in the 1,650-yard freestyle.
Sophomore Emma Sougstad will also compete at the 2015 NCAA Championships, taking part in the 100-yard breaststroke. The Forest City, Iowa, native ranks 27th-nationally after posting a season-best 1:00.04 at the 2015 Big Ten Championships in Columbus, Ohio. This marks the Forest City, Iowa, native's first appearance on the big stage.
A total of 322 participants (281 swimmers and 41 divers) will compete in the championships. Swimmers qualified for the championships by meeting the established minimum time for the events in which they entered.
Divers will be determined by performances at the Zone Diving Meets held March 9-14. The complete list of all swimmers competing in the championships is available at usaswimming.org/ncaa. Selected divers will be announced Sunday, March 15.
ESPN3.com will stream finals sessions on Friday and Saturday live. Thursday's sessions, along with the morning sessions on Friday and Saturday, will be streamed live on NCAA.com.