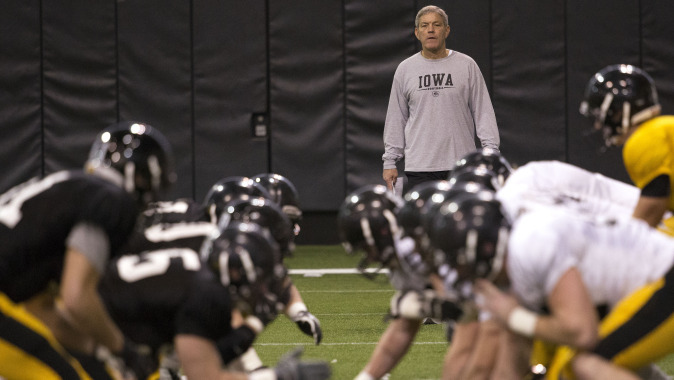 March 6, 2015
Big Ten Network: Free Hawkeye Video

IOWA CITY, Iowa – The University of Iowa football coaching staff will host its annual Hawkeye Coaches Clinic on Friday and Saturday, March 27-28.

Coaches can register for the clinic at IowaSportsCamps.com/Football. All registration needs to be completed online, and cash will not be accepted for registration. The registration deadline is Tuesday, March 24.

Coaches can check-in on Friday, March 27, from 11 a.m. to 4 p.m. at the Coralville Marriott, or from 5-7 p.m. at the UI's indoor practice facility. Afternoon sessions will be held at the Marriott before Iowa's spring practice session is held from 5-7 p.m. Breakout conversations will be held from 7-9:15 p.m. in the Stew and LeNore Hansen Football Performance Center following practice.

Saturday check-in will begin at 7:30 a.m., with morning sessions at the UI's indoor practice facility. Saturday's schedule will conclude with Iowa's practice session in Kinnick Stadium, beginning at 12:30 p.m.

Coaches may contact Terry Armstrong or Ben Hansen at Iowa football (319-335-8944) with any questions.