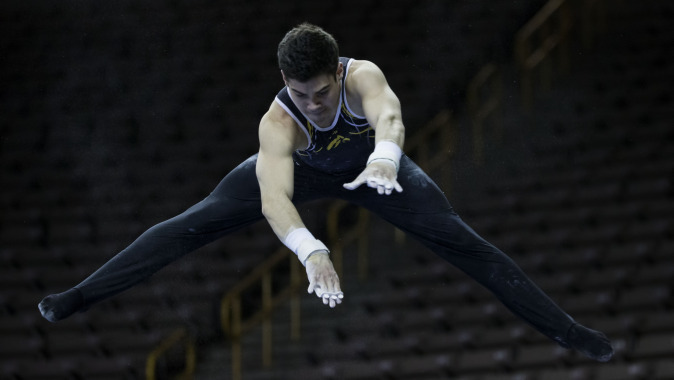 March 7, 2015
Team Results

Event Results

IOWA CITY, Iowa — The No. 6-ranked University of Iowa men's gymnastics team put together one of its strongest rings performances of the season, but fell on the road to Minnesota 436.000 to 421.000 on Saturday night.
"This was a bad meet," head coach JD Reive said. "A few guys showed up tonight, but there were many mistakes. Some guys did well and some guys did terrible. It was Minnesota's game tonight, not ours. We're going to regroup and get back in the gym to prepare for Nebraska."
The Hawkeyes fell behind early on pommel horse and heading into the second rotation, the team needed a strong showing on rings. Every Hawkeye scored above a 14.000. Sophomore Andrew Botto, junior Matt Loochtan and senior William Albert all led the Hawkeyes with a score of 14.900. The trio tied for fourth on the event.
The third rotation had the Hawkeyes on floor. Loochtan led the team with a score of 14.800 and a third place result, while sophomore Cory Paterson set a season-high with a 14.500 effort, placing sixth. Senior Lance Alberhasky finished eighth with a 14.200.
Junior Doug Sullivan placed second on pommel horse with a score of 14.650, falling to Minnesota's Ellis Mannon for the second time this season. Freshman Elijah Parsells continued to progress, placing third with a 14.450 effort. Junior Del Vecchio Orozco placed fourth with a score of 14.400.
Junior Cyrus Dobre-Mofid followed up a career-high last weekend with a 14.300 on parallel bars placing fifth. Loochtan placed seventh in the event with a 14.200 and Alberhasky scored a 13.950, to finish eighth.
The Hawkeyes headed to high bar on the fifth rotation. Boyle claimed Iowa's lone event title with a score of 14.900. Alberhasky took third place following a 14.550 effort, while Paterson tied for fifth place with a score of 14.400.
Iowa concluded the meet on vault where Dobre-Mofid placed third with a 14.550. Albert tied for fourth place following a 14.500 effort. Botto added a 14.250, placing seventh on the event.
The Hawkeyes finish the regular season at Nebraska on March 15 in Lincoln, Nebraska. The meet begins at 1:00 p.m. (CT).