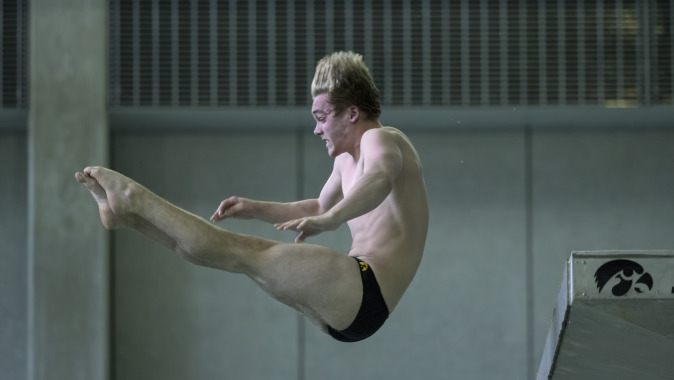 March 9, 2015
1-Meter Complete Results

| 3-Meter Complete Results

IOWA CITY, Iowa — The University of Iowa men's and women's diving team capped the opening day of the 2015 NCAA Zone D Diving Championships on Monday inside the Campus Recreation and Wellness Center Natatorium in Iowa City. The Hawkeye women competed on the 3-meter springboard while the men dove from the 1-meter.
Iowa's first day of competition was highlighted by freshman Matt Mauser diving to a 17th-place finish in the 1-meter prelims with a personal best score of 296.50. Later in the finals, the Denver, Colorado, native posted a score of 293.65 to finish 18th overall.
"I was very pleased with Matt Mauser's performance today as a freshman," said UI diving coach Todd Waikel. "He's just showing that he likes to step up and compete. He's a fighter and it's fun to watch. He's got a bright meet and a bright future ahead of him."
Junior Addison Boschult and sophomore Brandis Heffner also dove from the 1-meter during Monday morning's prelims session. Heffner (281.10) finished 20th overall with Boschult coming in close behind with a score of 268.40.
On the women's side, four Hawkeyes competed among a talented field of 47 divers in the 3-meter prelims. Redshirt senior Abby Grilli paced Iowa's foursome, diving to score of 293.45. Grilli finished 19th-overall. Sophomore Lydia Lehnert was close behind (266.00) along with redshirt seniors Lauren Kelba (254.55) and Joelle Christy (222.80).
"Today was a little disappointing," said Waikel. "It's not how we wanted to start the first day of competition but we're going to regroup tonight and make some adjustments and get ready for tomorrow."
The Hawkeyes return to action tomorrow at 11 a.m. (CT) as the men compete on the 3-meter springboard and the women will dive off the 1-meter.