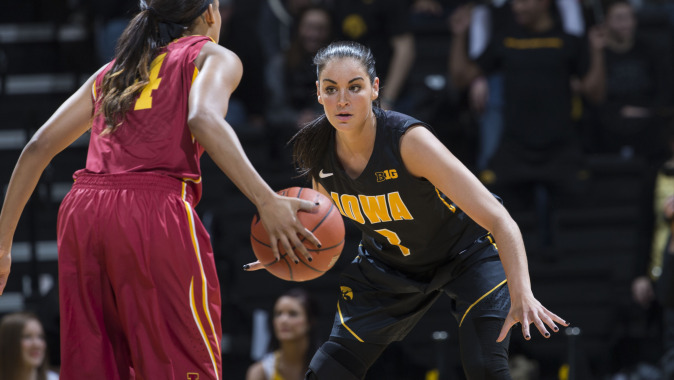 March 10, 2015
Q: What is your favorite place to eat in Iowa City and what do you order?
A: There are so many great places. Formosa is one of our team favorites. I order Tropical Rain Forest and Finding Nemo.
Q: Where do you spend most of your free time?
A: Most likely sleeping or hanging out at one of the teammates houses.
Q: What is your favorite home-cooked meal when you go back home?
A: I love grilled chicken, and we usually spend time together around a grill.
Q: What is it like working with coach Bluder and the Iowa coaching staff?
A: It's awesome. They have a big emphasis on family, and that's a major reason I came here. I've known them my entire life, but even beyond that they make you feel so comfortable around them and they praise you and teach you on and off the court.
Q: What facet of your game has improved the most since last year?
A: I've tried to work on all of it, but my outside shooting has been an emphasis this offseason and that comes with getting in the gym and getting more reps in.
Q: Is there any significance to the jersey number you wear?
A: I've always been No. 3. I was always a fan of Diana Taurasi who wore it when she played at Connecticut and now as a member of the Phoenix Mercury.
Q: Any Superstitions?
A: I kind of talk to myself before and during the games. I don't have any real superstitions though.
Q: What did you do with your free time last summer?
A: We hung out as a team a lot. Whether it was at a pool or outside we spent a lot of time together. We went to a lot of country concerts together and had a lot of fun at those.
Q: Who is the most influential person in your life?
A: My parents; they're always supporting me and helping me reach my dreams.
Q: What is your first basketball memory as a child?
A: Playing in a rec league with all of my best friends. None of them play basketball anymore, so it's kind of funny watching film of that. They hated it, and then there was me, who was loving life out on the court.
Q: Any hidden talents that Hawkeye fans don't know about?
A: I used to dance and I'm pretty flexible, so the team always makes me do fun flexible things.
Q: What did you want to be as a kid growing up?
A: I wanted to play basketball forever. I loved watching college basketball on TV — Tennessee vs. Connecticut; Candace Parker and Diana Taurasi. I aspired to be them and play basketball forever.
Q: What is one word that describes you?
A: Outgoing.