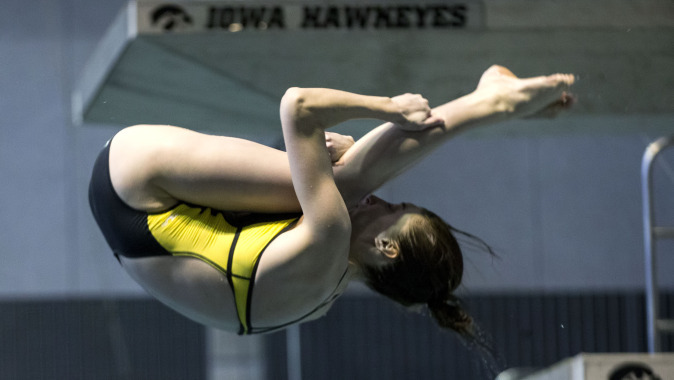 March 10, 2015
W. 1-Meter Results

| M. 3-Meter Results

IOWA CITY, Iowa — The University of Iowa men's and women's diving team completed day two competition at the 2015 NCAA Zone D Diving Championships on Tuesday night inside the Campus Recreation and Wellness Center Natatorium in Iowa City. Redshirt senior Joelle Christy highlighted day two competition in the 1-meter competition with an eighth-place finish in the finals to solidify her spot in the 2015 NCAA Championships.
"What you saw was the spirit of the Hawkeyes," said UI diving coach Todd Waikel. "That's what we're all about. We missed some marks yesterday but each and every one of our divers came back and fought hard today and it was exciting."
In the prelims, Christy finished eighth overall with a finals-qualifying score of 294.10. Later in the finals, the Springfield, Illinois, native bested her prelims score, tallying 304.90 points for a combined score of 599.00 through 12 dives. Christy also placed eighth in the finals.
Redshirt senior Abby Grilli joined Christy in the finals. Grilli finished 10th overall in the prelims, diving to a score of 283.00. The Burr Ridge, Illinois, native later went 10th overall posting a score of 294.10.
Sophomores Lydia Lehnert (248.95) and Calli Head (233.20) also competed in the prelims but did not make the top-18 finals cut.
"All the girls performed really well today," said Waikel. "For Joelle to come out yesterday and finish short of her expectations and then show up today with one of the best days of her career was remarkable. She's got the heart of a champion."
On the men's side junior Addison Boschult paced the Hawkeyes off the 3-meter with a finals-qualifying score of 328.10 in the prelims. The Omaha, Nebraska, native finished 13th overall in the finals, diving to a personal best score of 368.60.
Freshman Matt Mauser (312.50) and sophomore Brandis Heffner (307.50) also took part in the 3-meter prelims competition, but fell just outside of the top-18 qualifiers.
"I saw some good things from our guys today and we're going to be primed and ready to go come the tower tomorrow," said Waikel.
The Hawkeyes return to action tomorrow at 11 a.m. (CT) as both the men and women compete on the platform.