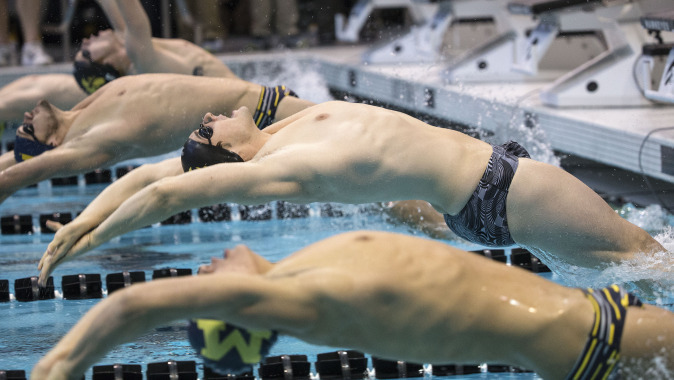 March 11, 2015
IOWA CITY, Iowa — Four University of Iowa swimmers have been selected to compete in the 2015 NCAA Men's Swimming and Diving Championships which will be held March 26-28, inside the Campus Recreation and Wellness Center Natatorium in Iowa City, Iowa. The complete list was released Wednesday by the NCAA.
Senior Grant Betulius, junior Roman Trussov, sophomore Jackson Halsmer, and freshman Jerzy Twarowski will each represent the Hawkeyes throughout six events.
The quartet qualified as a foursome in the 200-yard medley relay with a time of 1:25.53 that ranks 20th-nationally. The group also punched their ticket to the NCAAs in the 400-yard medley relay where they rank 17th-nationally after touching out with a time of 3:08.56.
Betulius and Trussov also received invitations to compete individually.
Betulius will take part in the 100-yard backstroke (45.56) and 200-yard backstroke (1:42.19). The Naperville, Illinois, native ranks eighth nationally in the 100-yard backstroke and 19th nationally in the 200-yard backstroke.
Trussov is also set to compete individually, taking part in the 100-yard breaststroke and 200-yard breaststroke. A native of Ust-Kamenogorsk, Kazakhstan, Trussov ranks 24th nationally in the 100-yard breaststroke (52.85) and 19th nationally in the 200-yard breaststroke (1:54.57).
A total of 270 participants (235 swimmers and 35 divers) will compete in the championships. Swimmers qualified for the championships by meeting the established minimum time for the events in which they entered.
Divers will be determined by performances at the Zone Diving Meets held March 9-14. The complete list of all swimmers competing in the championships is available at usaswimming.org/ncaa.
ESPN3.com will stream finals sessions on Friday and Saturday live. Additionally, ESPNU will air a 90-minute show at 5 p.m. on Wednesday, April 8.