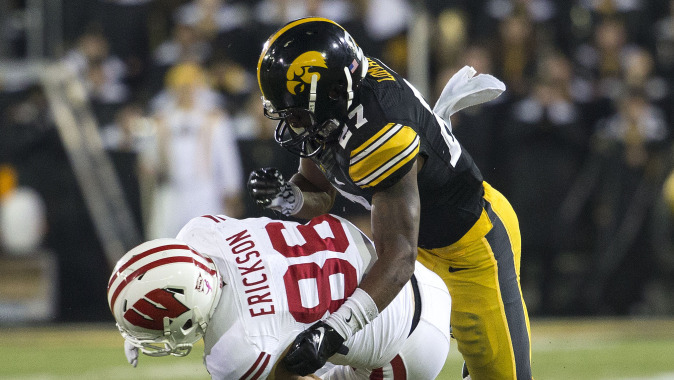 March 11, 2015
By DARREN MILLER
hawkeyesports.com
IOWA CITY, Iowa — Is it agony or motivation when you see a functional dishwasher going unused while you and your brother scrub pots, pans, and silverware?
How about listening to the cruel sound of a snow blower as you shovel your driveway on a cold Maryland day?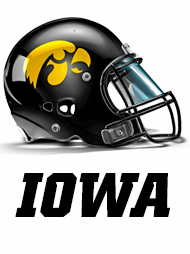 A riding lawn mower? Forget it. The push mower works fine.
Welcome to the adolescent life of University of Iowa free safety Jordan Lomax.
The 5-foot-10, 200-pound senior valued family, academics, finishing tasks, and obviously hard work as a youth in Upper Marlboro, Maryland. Those values were stressed by his parents, Pamela and Earnest, and they continue to serve him well.
Lomax grew up in Prince George's County, Maryland, an area recognized as one of the most affluent for African-Americans.
"Your first thought may be that my journey to Iowa City was a smooth, paved road that was destined to be," Lomax said at the University of Iowa all-staff meeting inside Carver-Hawkeye Arena on Feb. 11. "This was surely not the case."
He relishes the fact he was raised in a loving, God-fearing home with both parents under the same roof. It was there that his mother and father instilled four core values.
After his senior season at DeMatha High School, Lomax received scholarship offers from the University of Virginia, the University of Maryland, the University of Louisville, Stanford University, and the University of New Mexico. He verbally committed to Virginia.
But Lomax wavered with Signing Day four weeks away. He was stressed and confused until UI head coach Kirk Ferentz visited his school while recruiting two of his teammates. Lomax calls it a minor miracle.
"The next week I get a call from coach Ferentz himself, extending me a scholarship offer," Lomax said. "My dad and I flew down the next weekend for my visit. I met coaches, players, and academic support staff and I immediately felt the close-knit family bond."
Watch a video of Jordan's presentation to the staff of the UI Athletics Department by clicking HERE.
Lomax played in 11 of 13 games as a freshman, compiling seven tackles. He tore the labrum in his shoulder and was forced to redshirt as a sophomore in 2012. In 2013, Lomax started the season opener at right cornerback against Northern Illinois, recording three solo tackles and a pass breakup before being injured. When he returned to action after missing four games, his starting spot was occupied.
"I was crushed and I felt defeated," Lomax said. "I was tired of being injured and going through the rehabilitation process. I honestly began to question whether I should transfer from the University of Iowa, or should I just stop playing football all together?
"Both options seemed the easiest and the best for me at the time, but both of these options were not the answer. It was simply running away from my challenges."
Lomax phoned his parents, who sternly reminded him of his commitment to Iowa before letting their son know they did not support his intentions of transferring.
It was time to grow up. Lomax worked harder than ever and even though he didn't regain his position at right corner, he impressed the Hawkeye coaches enough that they found a spot for him at free safety.
"Your philosophy creates your attitudes, which creates your actions, which creates your results, which creates your life."

Senior defensive back

Jordan Lomax

, paraphrasing from the book,

The Slight Edge

, by Jeff Olson.
"The true victory is not that I was able to earn a starting position, but instead, the true victory is that I grew as a man and became a better person as a result," Lomax said.
This past season, Lomax played all 13 games, finishing third on the team with 92 tackles. He had six pass breakups and an interception.
Lomax will graduate this spring with a bachelor's degree in economics and a 3.48 grade-point average (on a 4.0 scale). His parents are first generation college graduates, so it was hammered into Lomax that academics comes before athletics.
"They made it clear to me that their philosophy was school will come first because knowledge is power, and that playing sports is not a core value, but instead, it is a privilege," Lomax said.
Every day after school and practice, Lomax was required to complete his homework…then review his assignments for 15 to 20 minutes. "If I was unable to complete these tasks, then I was not allowed to participate in sports," Lomax said.
Lomax has increased his extended "family" since his first day in Iowa City in 2011. The ideals passed to him by his biological family continue to serve him well.
"Your philosophy creates your attitudes, which creates your actions, which creates your results, which creates your life," said Lomax, paraphrasing from the book The Slight Edge by Jeff Olson.
Lomax is aware that there will be other obstacles in life. But because of his upbringing and growth as a student-athlete at the UI, he is ready for the challenge.
"This story sheds light on how my experience at the University of Iowa has been about more than earning a degree and playing football," Lomax said. "My experience here has better prepared me for life and obstacles ahead that I will face and how I should go about persevering through those obstacles."
Editor's Note: Fans of the University of Iowa football program who were season ticket holders in 2014 or are interested in being a season ticket customer in 2015 can receive $70 to spend on game days at the concessions stands at historic Kinnick Stadium this fall and 30 percent off a pre-season shopping trip to Herky's Locker Room if they place their 2015 Iowa football season ticket order by the end of the day on Friday. To learn more click HERE.
Also, UI students can save $50 on the purchase of their 2015 Iowa football student season ticket if they place their order by Friday of the spring semester's finals week. To learn more about that offer, click HERE.