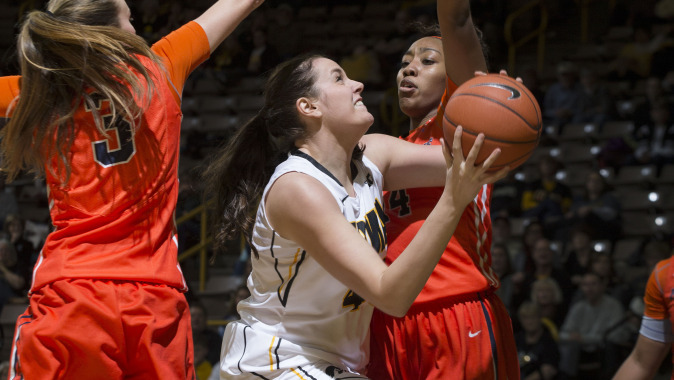 March 12, 2015
Q: What is it like working with coach Bluder and the Iowa coaching staff?
A: It's awesome. They've been together for so long. They have a lot of basketball knowledge, and it is fun to learn from them every day.
Q: What was the key factor in the recruitment process that led you to Iowa?
A: The team. We get along so well, and I could see that even before I got here. We have such a tight bond it makes for a fun environment.
Q: What facet of your game has improved the most since last year?
A: I've quickened up my shot down low in the post.
Q: Most of your free time is spent where?
A: Either studying or sleeping.
Q: Any significance to your jersey number?
A: It was the last number I could pick in high school. Freshmen pick last, and this was the number I had and I just stuck with it.
Q: Any superstitions before games?
A: I don't have a lot of superstitions; I mostly just keep to myself before games and listen to music.
Q: What did you do with your free time last summer?
A: We like to hang out with each other a lot as a team when we're not at practice, which is a lot of fun.
Q: How is your academic path coming along?
A: Really well. I'm double majoring in communications and sports studies. I'm going to graduate in the spring of 2016, and I'm looking forward to it.
Q: Who is the most influential person in your life?
A: My mother; she has raised my sister and I on her own, and she's really inspiring to be around.
Q: What is your first basketball memory as a child?
A: I played one game in fourth grade and absolutely hated it. Once I got to eighth grade, I was 6-2 and really enjoyed it; it was a lot more fun once I was taller than everyone else.
Q: Favorite Candy?
A: Kit Kat.
Q: What did you want to be as a kid growing up?
A: I'm not sure about when I was a kid. In high school, I thought I wanted to be a physical therapist before I started taking science classes. I quickly realized it wasn't for me.
Q: What is one word that describes you?
A: Confident.
Q: What is your favorite place to eat in Iowa City and what do you order?
A: Formosa: Sushi and Avocado Roll.
Q: What is your favorite home-cooked meal when you go back home?
A: My mom's mostaccioli is pretty good.