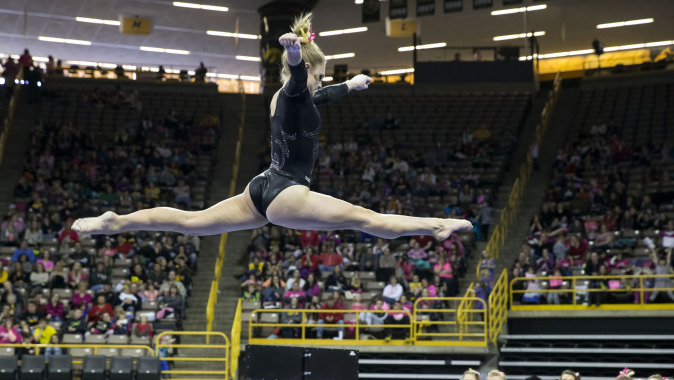 March 12, 2015
By MEGAN ROWLEY
IOWA CITY, Iowa — In preparation for the Big Ten Qualifying meet, the University of Iowa women's gymnastics team has taken time to reflect on the extensive progress they have made in just under a year.
"Being in the top 36 at the very end of conference championships, when there are over 100 teams, qualifies you for the first round of the tournament," said head coach Larissa Libby. "It's a huge deal. We are about to qualify this team, who really has no business qualifying. At the beginning of the year, we had no idea how far we were going to get. So for this team to go from not qualifying last year to being able to qualify and get into the top 25 is a huge deal."
These kinds of accomplishments do not come without hard work. The GymHawks have spent the past year strengthening themselves physically and mentally.
"What they have been focusing on in mental training is the fact that everyone can compete, but who can dominate their competition? There is a difference and that starts with mentality," said Libby. "If they can walk into these next two competitions with the mentality that they belong with the very best, I think you will see some pretty amazing gymnastics from them."
The main goal set out by the team at the season's start was to qualify in the postseason as a team.
"Getting to the first round is very exciting for this team. We had a few girls go as individuals last year and it was awful. You just don't want to go without your team," said Libby. "The whole goal is to go with your team. I think what makes them special is that they have never put themselves before the team. They want to go with the team, or they aren't going. That has been the mentality all year long and I think it has made a huge difference."
The GymHawks' success has not been an easy feat in their conference. Nine out of the 10 Big Ten women's gymnastics teams rank in the top 30 nationally.
"I am excited; I think the girls are excited, because they are eager to see where we compare. The Big Ten is very strong this year," said Libby. "So having almost all of the teams ranked in the top 35 speaks to the strength of the conference and how tough it is to be the best in our conference."
With their mental goals in mind, the GymHawks set out to accomplish their qualifying goal this weekend.
"They have yet to have their best meet yet," said Libby. "I am excited to see where the team could go when they hit all four of their events."