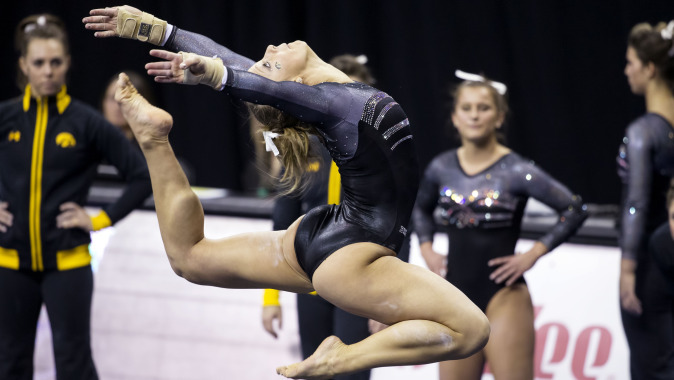 March 14, 2015
Full Results

MINNEAPOLIS, Minn. — The University of Iowa women's gymnastics team posted a 196.425 at the first annual Big Five Meet to finish fourth Saturday afternoon. The GymHawks took on No. 6 Michigan (197.000), No. 12 Penn State (196.650), No. 20 Minnesota (196.450), and Rutgers (194.150) inside the Sports Pavilion.
"I think they were fantastic. We did everything that was humanly possible to get the score we needed for the evening session, but we got edged out by the home team and sometimes that happens," said head coach Larissa Libby. "I don't think we have anything to hang our heads about. But that is gymnastics and everyone has good and bad days. We got edged out by a better team today and now we have to go back and make sure we don't get edged out again."
Five GymHawks tallied six season bests on the afternoon. Sophomore Mollie Drenth led the charge with a season best on bars (9.925) and beam (9.900). The scores also earned Drenth first place titles in both events. In addition to the individual bests, the team posted team high scores on vault (49.275) and bars (49.325).
Iowa started the day on floor, posting a 48.750. Drenth paced the GymHawks by scoring a 9.800 during the rotation. Host Minnesota began on beam (49.075), while Michigan took on bars (49.125), Penn State was on vault (49.375), and Rutgers took on floor after Iowa (47.150).
On vault, junior Alie Glover paced the GymHawks with a season best 9.900 for fifth place overall. Sophomore Ashleigh Edlin earned a season best score of 9.875. Iowa tallied a 49.275, adding to its running total of 98.025. Michigan, Minnesota, Penn State, and Rutgers stood at 98.325, 97.550, 98.550, and 96.625, respectively, at the conclusion of the second rotation.
The Hawkeyes then moved to bars where Drenth posted a 9.925 to earn a first place finish. Freshman Melissa Zurawski and senior Sydney Hoerr both posted 9.875, both tying for fifth place overall. Sophomore Lexi Mura rounded out the beam score tallying a season best 9.850, adding to the team score of 49.325. Team totals were 147.475 (Michigan), 147.650 (Penn State), 147.350 (Iowa), 147.000 (Minnesota), and 145.550 (Rutgers) heading into the final rotation.
Iowa concluded the afternoon on beam tallying a 49.075. Drenth, sophomore Angel Metcalf, and Glover posted scores of 9.9000, 9.875, 9.850 and finished first, third, and fifth, respectively. Hoerr, and Metcalf both competed for the all-around title, totaling 38.575 and 39.275 respectively. Metcalf paced Iowa with a fourth place finish in the all-around.
"All of the goals they have set for themselves, they went after them. They have had one of their best meets so far this year, but there is still work to do," said Libby. "It will be super tough, but so far this team has hit every challenge that they have faced so why would they not be able to hit another?"
The GymHawks will travel to Ann Arbor, Michigan, to compete at the Big Ten Championships on March 21. Iowa will compete in the morning session, beginning at 10:30 a.m. (CT). Big Ten Network will provide live coverage of session one (10:30 a.m.) and session two (3:30 p.m.).