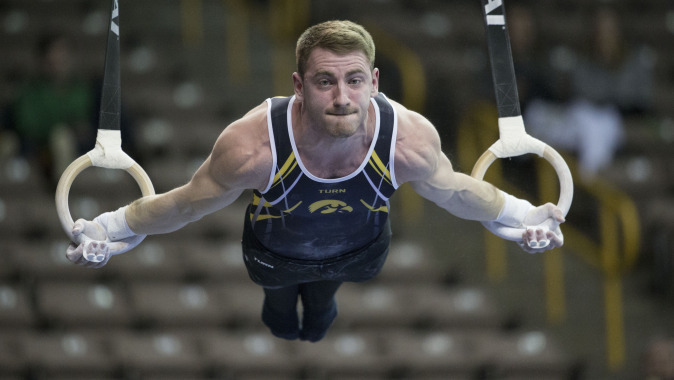 March 15, 2015
Team Results

IOWA CITY, Iowa — The No. 8-ranked University of Iowa men's gymnastics team ended its regular season with a third place finish Sunday afternoon in Lincoln, Nebraska. Minnesota (434.000) won the quad meet followed by Penn State (432.100), Iowa (429.250) and Nebraska (426.050).
"We almost had a great meet," head coach JD Reive said. "We counted 9 misses today. We had a great vault and floor, just a little flat on the others and not as sharp as we needed to be. There is room to improve before Big Tens."
The Hawkeyes began the meet on a high note, posting a season high team score on vault (73.050). Sophomore Andrew Botto led the team with a 15.100 to tie for first. Redshirt junior Cyrus Dobre-Mofid set a new season high on the event with a 14.750, tying for eighth place, while senior William Albert finished 12th with a score of 14.700.
The second rotation sent Iowa to parallel bars where freahman Dylan Ellsworth set a career high with a 14.600 and place sixth. Senior Lance Alberhasky posted a 14.350 for 10th followed by junior Matt Loochtan who placed 12th (14.250).
The Hawkeyes headed to high bar for their third rotation, remaining in the hunt for the team title. Alberhasky led the way for Iowa, tying a season high on the event (14.700) and finishing third. Junior Del Vecchio Orozco finished behind Alberhasky in fourth with a 14.450 effort and set a new season high. Junior Jack Boyle finished 11th with a 14.050 score.
The Hawkeyes set a new season high team score on floor with a 73.550, but did not have a gymnast finish in the top five. Loochtan posted a 14.950 for sixth, Dobre-Mofid (14.850) placed seventh (14.850), and Boyle placed 10th (14.750).
Iowa fell behind it's competition on pommel horse. Orozco finished fourth with a 14.350 effort, junior Doug Sullivan placed eighth (13.900), and junior Emmanuel Monroy placed ninth (13.850).
Albert tied a career high on rings in his final regular season meet with a 15.250, finishing runner-up. Loochtan scored a 15.200, clinching third place, while Boyle finished sixth with a 14.850 effort.
The Hawkeyes have an off week before heading to the Big Ten Championships hosted by Penn State on March 27-28.