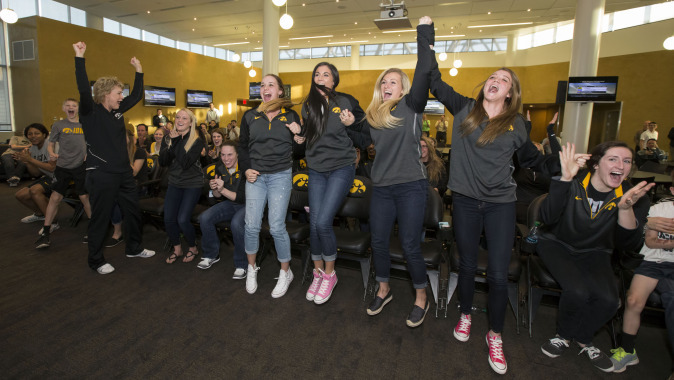 March 16, 2015
Selection Show Photo Gallery


Photo Gallery | NCAA Tournament Central Page | Purchase Tickets
IOWA CITY, Iowa — The University of Iowa women's basketball team has received an at-large berth into the NCAA Women's Basketball Championships for the eighth straight season. The 15th-ranked Hawkeyes (24-7, 14-4) are a No. 3 seed and will play No. 14 seed American (24-8, 16-2) from the Patriot League at approximately 1:30 p.m. (CT) on Friday inside Carver-Hawkeye Arena. The game will be televised live on ESPN2. This will be the first ever meeting between the two schools.
This year marks Iowa's 24th trip to the NCAA Tournament. Head coach Lisa Bluder has led the Hawkeyes to 12 NCAA Tournament appearances in her 15 years at Iowa, including each of the last eight years. Iowa is the only Big Ten team, and one of only 10 teams in the country, to appear in the last eight NCAA Tournaments (Baylor, DePaul, Tennessee, Stanford, Oklahoma, Duke, Texas A&M, Iowa State, and Connecticut).
Iowa is 1-of-21 teams to advance to the Second Round of the NCAA Tournament in each of the last two seasons. The Hawkeyes, a No. 6 seed in the 2014 NCAA Tournament, defeated 11th-seeded Marist in the First Round, 87-65, marking the fourth-largest margin of victory in an NCAA Tournament game in program history.
As a top-16 overall seed, Iowa will serve as a host for the First and Second Rounds. The 2015 NCAA Championships will mark the 14th time the University of Iowa has served as a host. Iowa hosted its first NCAA action in 1986 when it was one of four regional final sites. Carver-Hawkeye Arena also hosted from 1987-90, 1992-94, 1996, 1998, 2009, 2013, and 2014. The Hawkeyes hold an 11-7 record in NCAA Tournament games held in Iowa City.
The No. 3 seed marks Iowa's highest since earning a No. 2 seed in 1996; the Hawkeyes advanced to the Sweet 16 that season. It marks the fifth time in program history (1987, 1989, 1990, 1994, 2015) that Iowa has earned a No. 3 seed. The Hawkeyes are 4-4 all-time as a No. 3 seed in the NCAA Tournament. Iowa advanced to the Elite Eight in 1987 and the Sweet 16 in 1989.
The Iowa City First/Second Round site is a part of the Oklahoma City region. No. 6 Washington will take on No. 11 Miami (FL) in the first game on Friday inside Carver-Hawkeye Arena at 11 a.m. (CT). Sunday's Second Round game time is TBA.
American, 24-8 overall and 16-2 in league play, is making its first NCAA Tournament appearance after winning the Patriot League tournament and regular season championships.
Tickets can be purchased by calling 1-800-IA-HAWKS or by visiting hawkeyesports.com. All session tickets are $30 for adults, $12 for youth (18 and under) and $18 for seniors (50+). Single session tickets are $18 for adults, $8 for youth, $13 for seniors, and $10 for groups purchasing 20 or more tickets.