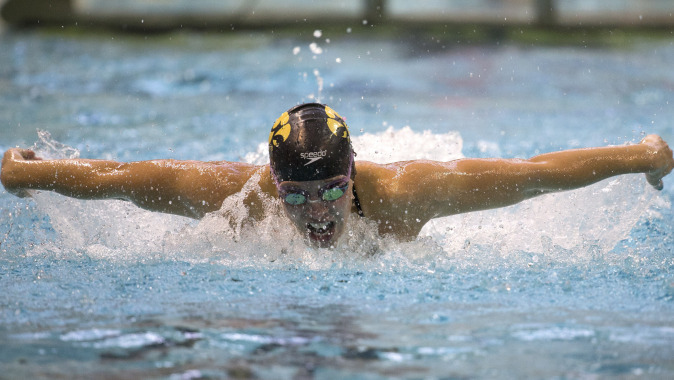 March 17, 2015
Complete Notes

This Week
The University of Iowa women's swimming and diving team will be represented by four student athletes at the 2015 NCAA Championships in Greensboro, North Carolina, from March 19-21. Redshirt senior Joelle Christy, senior Becky Stoughton, and sophomore Calli Head and Emma Sougstad will participate at the championships.
Live Stats
For live results from your computer or smart phone, visit: http://www.swmeets.com/Realtime/AAC/2015/ Fans can also follow live action on the "Meet Mobile" swim meet application on cell phones and tablets. Download the application at this link: http://www.active.com/mobile/meet-mobile-app.
TV Broadcasting
ESPN3.com will stream finals sessions Friday and Saturday. Additionally, ESPNU will air a two-hour show at 5 p.m. (CT) on March 31 covering the women's championships.
Greensboro Aquatic Center
The Greensboro Aquatic Center (GAC) is a state-of-the-art facility featuring leading edge concepts in aquatic design. The GAC is located on the campus of the Greensboro Coliseum Complex, the premier sports and entertainment facility in the Southeast. The GAC brings together all major aquatic sports – competitive swimming and diving, water polo, synchronized swimming and other unique sports all in one venue. The GAC fully meets NCAA and FINA standards and offers Greensboro the opportunity to host high school and collegiate events, USA Swimming meets, Master's swimming and U.S. Water Polo events as well as a myriad of local, regional, national and international competitions.
4 Hawkeyes in the NCAA Championships
Four swimmers and divers will compete at this year's championships. The last time the Iowa women's team sent four or more student-athletes was in the 1992-93 season, when the Hawkeyes were represented by eight student-athletes.
Get to Know Hawkeyes
Redshirt Senior Joelle Christy: Christy, a native of Springfield, Illinois, leads the Hawkeyes on the one-meter (316.50) and is second in the three-meter (317.48). Her score of 319.45 on the one-meter ranks fifth all-time and her point total in the three meter (327.08) ranks seventh in school history. Christy will compete off the 1-meter after qualifying at the 2015 NCAA Zone D Diving Championships with an eighth-place finish, scoring 599.00 points on 12 dives.
Senior Becky Stoughton: Stoughton, a native of Peoria, Illinois, leads Iowa in the 500 (4:47.40), 1,000 (9:49.51) and 1,650 (16:21.97) free. She holds school records in the 200 (1:46.68), 500 (4:40.82), 1,000 (9:39.44), 1,650 free (16:03.42), 400 IM (4:12.34), and 200 fly (1:59.42). Her time in the 200 back (1:58.38) ranks fourth fastest in school history. Stoughton will represent the Hawkeyes in the 200, 500, and 1,650-yard freestyle events. She enters the championships ranked 12th-nationally in the 1,650 free (15:57.43), 18th in the 500 free (4:40.23), and 22nd in the 200 freestyle (1:45.47).
Sophomore Calli Head: Head, a native of Fox Point, Wisconsin, set the UI school record on the platform at the 2014 Big Ten Championships. She will compete at the NCAA Championships off of the platform, having qualified at the 2015 NCAA Zone D Diving Championships with an 11-dive score of 559.30 — finishing seventh overall.
Sophomore Emma Sougstad: Sougstad, a native of Forest City, Iowa, was named Big Ten Swimmer of the Week on Nov. 4, and December 16. She currently holds records in the 100 (1:00.14) and 200 breast (2:11.71) as well as a member of the 200 (1:40.12) and 400 medley relays (3:39.54), and the 200 free relay (1:31.30). She ranks second all-time in the 200 IM (2:00.94). Sougstad will take part in the 100-yard breaststroke where she ranks 27th-nationally after posting a season-best 1:00.04 at the 2015 Big Ten Championships in Columbus, Ohio.
Quick-Cap 2015 B1G Championships
Iowa capped the 2015 Big Ten Championships with 10 new UI swimming records in addition to one on the diving end. The Hawkeyes crowned on Big Ten Champion (Stoughton, 1,650 free) and finished eighth in the Big Ten with 223 points. Minnesota (618.5) and Indiana (591) were the top finishers.
Head Coach Marc Long
Marc Long is in his 11th season as head coach for the University of Iowa swimming team. It's his 10th as head coach of the combined program. During his tenure as head coach of both programs, 86 school records have fallen and 112 Hawkeyes have provisionally qualified for the NCAA Championships.
Iowa Swimming and Diving Tradition
Iowa was one of the first schools in the nation to compete on a collegiate level and competed at the first NCAA Championship. From 1937 to 1960, Iowa placed in the NCAA top 10 18 times, crowning nine NCAA and 23 Big Ten champions.
Follow the Hawkeyes
Become fans of the official Iowa Swimming and Diving fan page by going to facebook.com/IowaSwimmingandDiving to follow the Hawkeyes on Facebook. Fans can also follow on Twitter: @IowaHawkeyeSwim and @Iowadiving