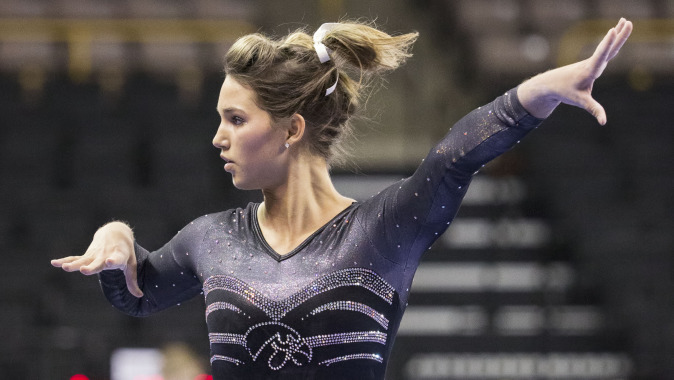 March 17, 2015
IOWA CITY, Iowa — Senior Sydney Hoerr of the University of Iowa women's gymnastics team was named Second Team All-Big Ten for the second year in a row, the conference office announced Tuesday morning.
"We are so pleased for Sydney. This is certainly a well-deserved honor," said head coach Larissa Libby. "Sydney has been a dominant force on our team this season and has put everything together to have one of her best season's at Iowa to date."
Twenty-three gymnasts were honored — 12 to the conference's first team and 11 to the second team. All-Big Ten selections are determined by regional qualifying scores.
Hoerr has registered the top score for Iowa on floor this year with a 9.925 against Iowa State on March 6. She has competed in all 10 meets, appearing in the all-around nine times. Hoerr is nationally ranked in three events to lead Iowa, including 26th on floor (9.895), 46th in the all-around (39.075), and 65th on bars (9.845).
The Bloomington, Illinois, native appeared on the Big Ten Gymnasts to Watch List in preseason and is also an Academic All-Big Ten honoree.
"Her contribution to our team, on the floor, in the classroom and in our community is a direct reflection of the hard work she has put in this year," said Libby. "She is very deserving of this honor and we are pleased that her efforts have been recognized."
Iowa will continue action at the 2015 Big Ten Women's Gymnastics Championships on Saturday, March 21 at the Crisler Center. Fans can watch the competition live on the Big Ten Network.
Based on the results of two Big Five meets last weekend, teams were placed in one of two sessions for Saturday's conference championships. Iowa, Maryland, Michigan State and Rutgers will compete in the first session at 10:30 a.m. (CT), while the evening session begins at 3:30 p.m., and will feature Illinois, Michigan, Minnesota, Nebraska, Ohio State and Penn State.