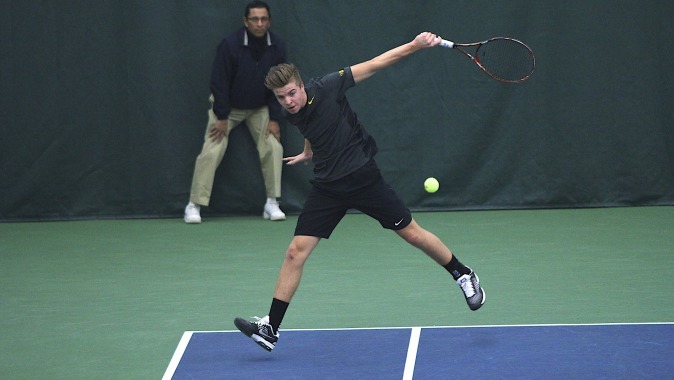 March 18, 2015
IOWA CITY, Iowa — This Sunday marks the Big Ten home opener for the 45th-ranked University of Iowa men's tennis team, where they will square off against Wisconsin at the Hawkeye Tennis and Recreation Complex at 2 p.m. (CT). Sunday will be a special day as the UI tennis program will honor former head coach Steve Houghton on "Coach Houghton Day."
Houghton took over the UI men's tennis program in 1982, leading the Hawkeyes to 13 winning seasons before retiring this past summer. He posted 354 wins over his coaching career that spanned more than three decades. He recorded the most wins of any coach in the University of Iowa men's tennis history. Houghton also has guided his athletes to success off the court recently as the 2011 Iowa team earned the ITA All-Academic Team Award.
Houghton has coached 20 All-Big Ten performers and under his guidance his players received 97 Academic All-Big Ten accolades. He has coached many outstanding student-athletes at Iowa, including Tyler Cleveland, Claes Ramel, Martin Aguirre, Tom Derouin, Klas Bergstrom, Mike Inman, Stuart Waters and Bart van Monsjou.
In 1989, Houghton was named the NCAA Region IV Coach of the Year and picked up his 100th career dual win. Along with his accolades as a coach, Houghton found success in a playing career at Iowa. His career Big Ten singles record was 21-6, and his career winning percentage of .727 (40-15) is the second best in Iowa history.
"We are looking forward to our Big Ten home opener against Wisconsin. We are honoring former head coach Steve Houghton and we want to get a win for him on his day," said UI head coach Ross Wilson.
This match will be the Hawkeyes' second conference battle of the spring campaign (playing at No. 22 Minnesota on Friday). Admission on Sunday is free to the public.