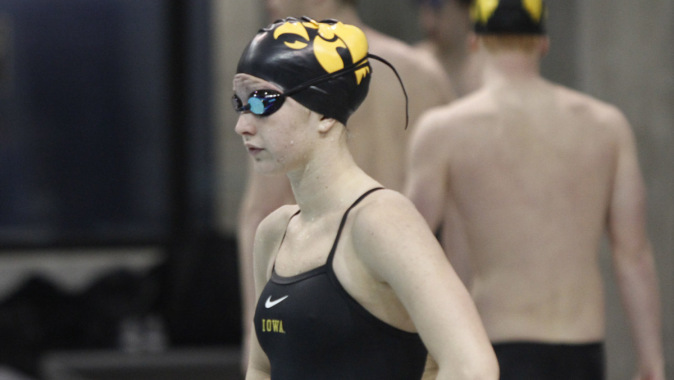 March 19, 2015
GREENSBORO, North Carolina — Two members from the University of Iowa women's swimming and diving team opened day one competition at the 2015 NCAA Championships Thursday inside the Greensboro Aquatic Center in Greensboro, North Carolina. Senior Becky Stoughton highlighted Thursday's action with a 13th-place finish in the 500-yard freestyle — qualifying for an honorable mention All-American status.
"It was an exciting night for Becky with the 13th-place finish, a school record, and qualifying as an honorable mention All-American," said UI head coach Marc Long. "She swam the best race of her career against the best competition in the country. Breaking that 4:40 mark was a big deal for her and overall we're really excited.
"We had a good start to the week and we're looking forward to what tomorrow has to offer as well. Becky and Emma (Sougstad) will be in the pool and swimming to some fast times."
Stoughton, a Peoria, Illinois, native opened competition for the Black and Gold, swimming to a 16th-place finish in the 500-yard freestyle prelims after touching out with a finals-qualifying time of 4:40.38.
Later in the finals, she bested her prelims mark, coming in with a personal best and UI record-setting time of 4:39.76 — which propelled her to the status of an honorable mention All-American.
"Before the race we had set a goal of coming in under the 4:40 mark and as soon as I touched the wall I looked back and saw I was under it," said Stoughton. "It's pretty exciting to be considered honorable mention All-American but there's more work to be done tomorrow. I've got the 200-yard freestyle and that's what my main focus is on right now."
In the diving well, redshirt senior Joelle Christy represented the Hawkeyes competing in one-meter springboard competition. Christy finished 41st overall, diving to a score of 253.55.
"I'm proud of Joelle to have earned her spot to compete on the highest stage," said UI diving coach Todd Waikel. "She battled throughout the morning session and her placing wasn't indicative of how she performed.
"She competed at a high level today and I'm proud of the way she finished her career as a Hawkeye."
The Hawkeyes return to action tomorrow afternoon with Stoughton competing in the 200-yard freestyle and sophomore Emma Sougstad taking part in the 100-yard breaststroke. Preliminary events begin at 10 a.m. (CT) with finals set to begin at 6 p.m. (CT).