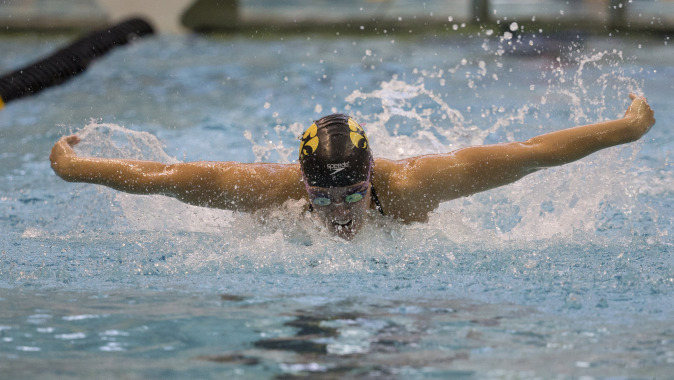 March 20, 2015
GREENSBORO, North Carolina — University of Iowa sophomore Emma Sougstad broke her own school record in the preliminary session of the 100-yard breaststroke Friday afternoon at the 2015 NCAA Championships inside the Greensboro Aquatic Center in Greensboro, North Carolina. Sougstad was joined in today's competition by UI senior Becky Stoughton who competed in the 200-yard freestyle.
"We're very happy to see Emma swim her fastest time and set a new school record," said UI head coach Marc Long. "She's a great competitor and works hard at what she does. Unfortunately, she just missed making the top-16 for tonight's finals.
"I know coming close today will motivate her for another opportunity tomorrow afternoon in the 200-yard breaststroke."
Sougstad, a Forest City, Iowa, native finished 18th-overall in the prelims, touching out with a time of 59.96 — surpassing her previous mark of 1:00.04.
Stoughton also competed in Friday's competition, taking part in the 200-yard freestyle. The Peoria, Illinois, native came in 43rd, touching the wall at the 1:47.21 mark.
"We're happy for Becky to be competing at a high level," said Long. "Her distance swimming looks great. She's primed for a great race tomorrow in the 1,650-yard freestyle."
Both Sougstad and Stoughton will return to the pool tomorrow. Sougstad will compete in the 200-yard breaststroke and Stoughton will take part in the 1,650-yard freestyle. UI sophomore Calli Head will also be diving off the platform.
Saturday's preliminary events are set to begin at 10 a.m. (CT) with finals to begin at 6 p.m. (CT).