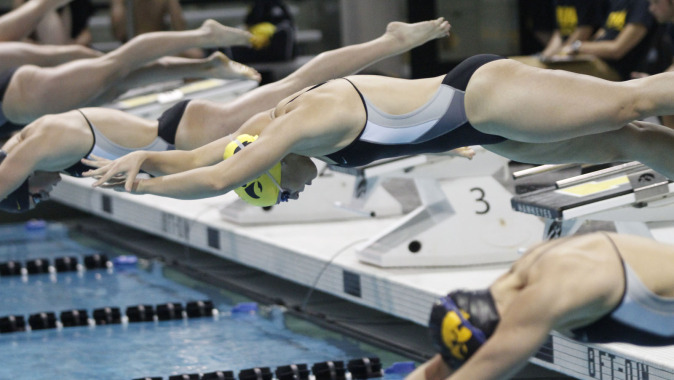 March 21, 2015
GREENSBORO, North Carolina — Three members from the University of Iowa women's swimming and diving team completed day three competition at the 2015 NCAA Championships Saturday inside the Greensboro Aquatic Center in Greensboro, North Carolina.
"We wrapped up our final day of competition with some fast times and put ourselves in scoring position," said UI head coach Marc Long. "The girls swam to a pair of school records this week and overall they represented the Iowa very well."
UI sophomore Emma Sougstad opened competition, starting in the 200-yard breaststroke prelims. A Forest City, Iowa, native, Sougstad finished 29th-overall after touching out with a personal best and UI record setting time of 2:11.20.
"It was great to come out and swim fast today," said Sougstad. "It's exciting to have made it here and experienced all that the NCAA Championships have to offer and I'm excited to get back in the pool, keep training, and see where I can go from here."
Senior Becky Stoughton also competed on the swimming end during Saturday's competition, taking part in the 1,650-yard freestyle. A Peoria, Illinois, native, Stoughton finished 11th overall, coming in with a time of 15:59.39.
"It's crazy to think that my Hawkeye career has come to an end," said Stoughton. "It was a great way to end my career here at the NCAAs and come in with some fast times. I'm happy with how the week went and grateful for the experience."
In the diving well, sophomore Calli Head represented the Black and Gold, diving from the platform. The Fox Point, Wisconsin, native finished 40th overall, diving to a score of 208.70.
"We would have liked to finish higher today but we're grateful for having been in the mix here at the NCAA Championships," said UI diving coach Todd Waikel. "Calli battled and hung in there, she just didn't hit all of the dives she would have liked to. She's just a sophomore and there could have been some nerves going into it, but ultimately this was a learning experience. She's got two more years to learn from it and build on it.
"Our goal at the beginning of the year was to make it to the NCAAs. To have three divers qualify this season is really special — it's been quite some time since that's happened and it's a testament to where this program is headed.
The Hawkeyes will return to action on Saturday Apr. 11, competing in the annual long course intrasquad.