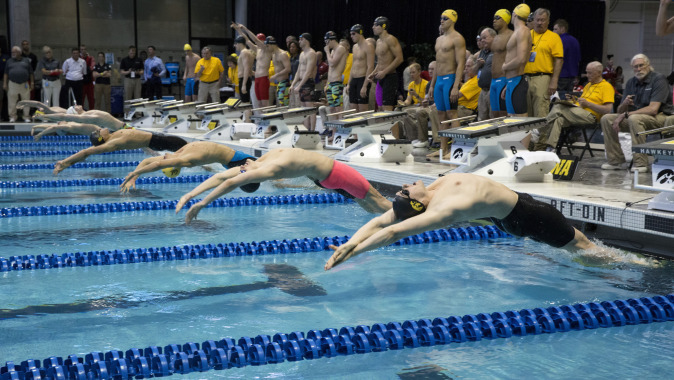 March 26, 2015
Complete Results

| Photo Gallery

24 Hawkeyes to Watch

IOWA CITY, Iowa — The University of Iowa men's 400-yard medley relay team finished 19th overall on Thursday afternoon in day-one competition at the 2015 NCAA Championships inside the Campus Recreation and Wellness Center in Iowa City. The quartet of senior Grant Betulius, junior Roman Trussov, sophomore Jackson Halsmer, and freshman Jerzy Twarowski represented the Hawkeyes, touching out with a time of 3:10.03.

"Tonight wasn't how we wanted to swim tonight, but there are some bright spots down the road," said UI head coach Marc Long. "It's the world's fastest meet in some ways so you have to come and be prepared. I felt like we were prepared and I saw some good things. It's possible the nerves got to them a little bit today.

"I know there are still some good swims in this group and that's what I told them. It's a long meet and it wasn't a complete disaster. Of course, we want to finish in the Top-16 and be part of that finals session and that didn't happen today. We'll regroup and get ready for tomorrow.

Tomorrow's competition will feature competition from the same foursome, in addition to individual events from Betulius (100-yard backstroke) and Trussov (100-yard breaststroke). Preliminary sessions are set to begin at 11 a.m. (CT), with finals to follow at 7 p.m.