March 27, 2015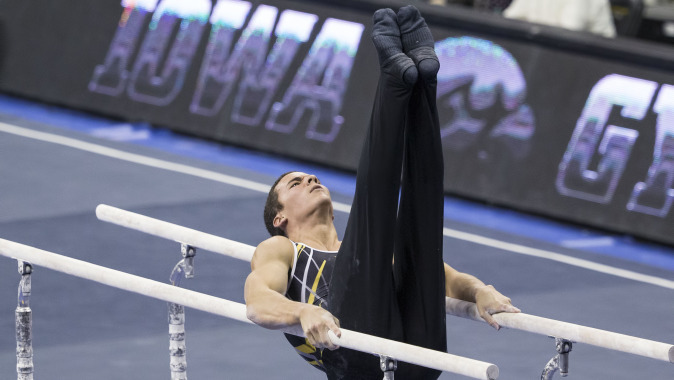 Big Ten Championships Results


Photo Gallery
State College, Pa. — Five Hawkeyes — Matt Loochtan, Jack Boyle, Austin Hodges, Doug Sullivan and Cyrus Dobre-Mofid — advanced to individual event finals with strong performances for the University of Iowa men's gymnastics team at the Big Ten Championship on Friday.
Loochtan and Boyle finished fourth (15.150) and 10th (14.850), respectively, on rings to qualify. Another duo in Hodges and Sullivan advanced to the finals on pommel horse with eighth (14.500) and ninth place (14.450) results. Dobre-Mofid was the lone Hawkeye to advance on parallel bars, as he finished fourth (15.050).
As a team, Iowa posted a score of 427.600 and finished sixth in the overall standings. Host Penn State led the competition field with a score of 436.700, followed closely by defending Big Ten champion Illinois (436.100). Michigan (434.750), Minnesota (433.750), Ohio State (429.350), Iowa (427.600), and Nebraska (420.100) round out team results.
"I am disappointed with the results, but we had some great events," head coach JD Reive said. "Pommel horse was great, rings was good, and we have five guys going into finals tomorrow. I wasn't disappointed with how we performed overall as a team, we didn't have enough and just got beat tonight. There are plenty of things to work on and this was certainly a step in the right direction."
Vault saw the Hawkeyes' scores steadily rise throughout the rotation. Sophomore Andrew Botto's 14.450 led all Hawkeyes on vault and placed him tied for 21st overall. Dobre-Mofid recorded a 14.400, finishing tied for 23rd on the event.
Dobre-Mofid qualified for individual finals on parallel bars after finishing tied for fourth with a 15.050, while Loochtan barely missed the cut for individual finals, placing tied for 10th with a 14.850. Redshirt senior Lance Alberhasky notched a 14.250, tying for 24th.
The Hawkeyes fell behind on high bar. Sophomore Cory Paterson tied for 11th with a 14.450, while Boyle followed behind him in 13th place, scoring a 14.400. Junior Del Vecchio Orozco finished 25th, posting a 13.900.
Dobre-Mofid led the team again, this time of floor exercise, recording a 14.850 and finishing in 13th place. Boyle (14.600) and Loochtan (14.550) ended in 22nd and 24th place, respectively.
Typically a difficult event for the Hawks, the team qualified two gymnasts for individual finals on pommel horse and scored a 71.450 on the event. Hodges (14.500) placed eighth and Sullivan (14.450) finished tied for ninth, both making the cut for day two. Freshman Elijah Parsells (14.400) was bumped out of the finals by Sullivan after finishing 11th.
The Hawkeyes saved their best event for last, scoring a team high 73.650 on rings. Loochtan qualified for finals following a 15.150 effort and finishing fourth. Boyle will join him as well, placing 10th with a 14.850). Senior Will Albert (14.750) tied for 13th.
The Big Ten Championships conclude Saturday with individual event finals set to begin at 6 p.m. (CT). The finals will be shown live by the Big Ten Network.
Big Ten Championship Finals Qualifiers
Matt Loochtan
Rings
Jack Boyle
Rings
Doug Sullivan
Pommel Horse
Austin Hodges
Pommel Horse
Cyrus Dobre-Mofid
Parallel Bars