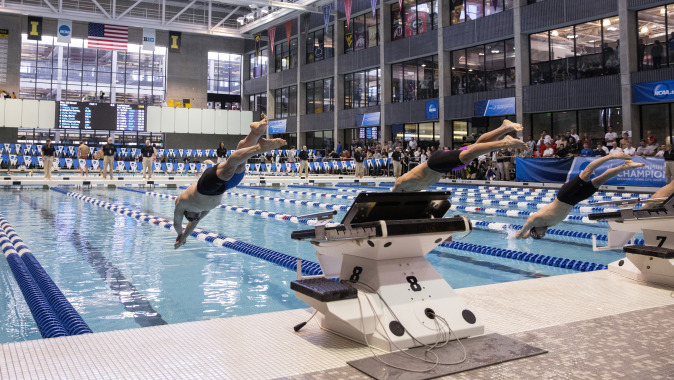 March 27, 2015
24 Hawkeyes to Watch

IOWA CITY, Iowa — The University of Iowa men's swimming team capped day-two competition Friday afternoon at the 2015 NCAA Championships inside the campus recreation and wellness center in Iowa City. The Hawkeyes were represented by senior Grant Betulius, junior Roman Trussov, sophomore Jackson Halsmer, and freshman Jerzy Twarowski.

"We knew we'd have to come close, if not break our school records if we wanted to score tonight," said UI head coach Marc Long. We weren't quite there and we were a bit off in this meet. I saw some things that will be good down the road but it just wasn't happening today.

"It's similar to getting to the NCAA Tournament in basketball. It takes so much work to get here, and you still have to keep improving once you're here."

The foursome of Betulius, Halsmer, Trussov, and Twarowski swam in today's opening event — the 200-yard medley relay. The team finished 18th overall, coming in with a time of 1:26.19.

Later in the prelims, Trussov took his turn in the 100-yard breaststroke. The Ust-Kamenogorsk, Kazakhstan, native finished 24th overall with a time of 53.17.

Betulius capped this afternoon's action with a 27th-place showing in the 100-yard backstroke. The Peoria, Illinois, native touched out with a time of 46.85.

Tomorrow's competition will feature three individual events from Betulius (200-yard backstroke), Trussov (200-yard breaststroke), and junior Addison Boschult (platform diving). Preliminary sessions are set to begin at 11 a.m. (CT), with finals to follow at 7 p.m.