March 27, 2015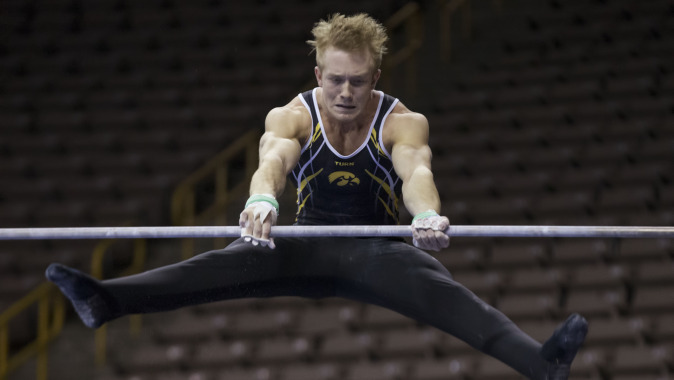 Editor's Note: The following first appeared in the University of Iowa's Hawk Talk Daily, an e-newsletter that offers a daily look at the Iowa Hawkeyes, delivered free each morning to thousands of fans of the Hawkeyes worldwide. To receive daily news from the Iowa Hawkeyes, sign up HERE.
BY JACK ROSSI
IOWA CITY, Iowa — The seventh-ranked University of Iowa men's gymnastics ended the regular season last week in Lincoln, Nebraska, and has been in the practice gym ever since. More than 10 days off from competition has given the Hawkeyes enough time to regain their strength for a run in the postseason.
"We are all about maintenance and refinement right now," said UI head coach JD Reive. "We had a pretty aggressive week of training last week. This week is all about individual deductions that we can clean up as we are doing these routines. It's a lot of focus on refinement."
The Hawkeyes have shown flashes of greatness including a Senior Night win inside Carver-Hawkeye Arena. Iowa set six career-highs and came from behind to defeat Big Ten opponents Minnesota and Nebraska with a score of 435.400. The team also set a season-high on parallel bars with a 72.800.
A week later the team bested that performance, posting a season high (435.750) in its second consecutive competition in its loss at Penn State.
"We haven't performed as well in the last two meets than we did in those, but that was not a result of training. It was a mental approach to the competition," Reive said. "Another piece of this recovery period is getting their confidence back."
Individually, several gymnasts have shown promise throughout the season.
Junior Doug Sullivan began the season ranked among the top three in the country on pommel horse. Event titles at the Windy City Invitational, Illinois, and against UIC in Iowa City has shown that the pommel specialist is one of the best in the country. A top three score average of 14.917 currently ranks him 10th in the country.
For the first time since March 17, 2014, Iowa had a weekly gymnast honor. Junior Jack Boyle was named Co-Big Ten Gymnast of the Week following Iowa's win over UIC on Jan. 24. Boyle posted two event titles on rings and floor, and finished second on parallel bars.
"There is a quiet intensity with a lot of the upperclassmen," Reive said. "There is a job to be done and they are in here to prepare themselves for that job. That's an important part for the freshmen to see."
In addition to learning from the upperclassmen, the freshmen will also need to contribute to ensure the team's success. Dylan Ellsworth, Elijah Parsells, and Austin Hodges have been important pieces of the team all season.
"I think the freshmen will have a blast," Reive said. "It's going to be a bit of an eye opener. No meet has that much intensity and energy to it. For them, it's going to be a realization of why we do this."
The Big Ten Championships take place March 27-28 in University Park, Pennsylvania. Penn State will host the meet, which will be shown live on the Big Ten Network.