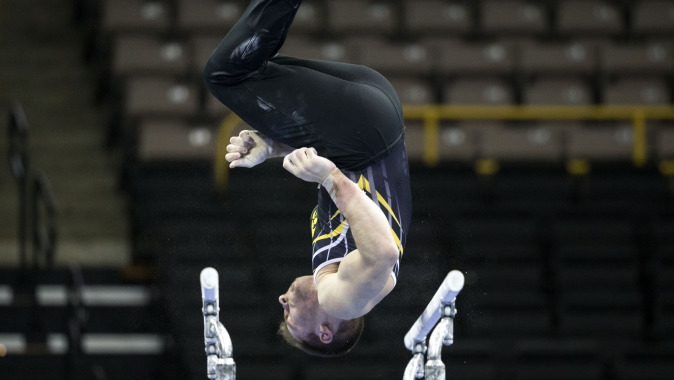 March 28, 2015

Photo Gallery
Day 2 Results

STATE COLLEGE, Pa. — Five Hawkeyes competed in the final day of the 2015 Big Ten Championships — Doug Sullivan, Austin Hodges, Matt Loochtan, Jack Boyle and Cyrus Dobre-Mofid.
Following the competition, Sullivan (pommel horse) was named as a Big Ten Second Team all-conference gymnast
Freshman Austin Hodges was first to compete for the Hawkeyes. He started strong, setting a career-high on pommel horse (14.575) to finish seventh. Junior Doug Sullivan posted a 14.800 and was named a second team All-Big Ten following his third place finish. Ellis Mannon of Minnesota won the event for a second straight year with a score of 15.525.
Juniors Matt Loochtan and Jack Boyle were Iowa's two competitors on rings. Boyle posted a 15.150 for sixth, while Loochtan recorded a 15.075 to finish seventh. Trevor Howard from Penn State won the title, notching a 15.750.
Iowa's final competitor was Cyrus Dobre-Mofid on parallel bars. Dobre-Mofid scored a 14.575, finished sixth. Jordan Valdez from Illinois won the event with a score of 15.375.
Junior Del Vecchio Orozco won the sportsmanship award for Iowa.
The NCAA Championships take place April 9-11 in Norman, Oklahoma. National qualifiers begin April 9 followed by team and all-around finals on April 10. The meet will conclude with individual event finals on April 11.
Big Ten Individual Event Finalists
Austin Hodges
Pommel horse: 7th, 14.575
Doug Sullivan
Pommel Horse: 3rd, 14.800
Jack Boyle
Rings: 6th, 15.150
Matt Loochtan
Rings: 7th, 15.075
Cyrus Dobre-Mofid
Parallel bars: 6th, 14.575