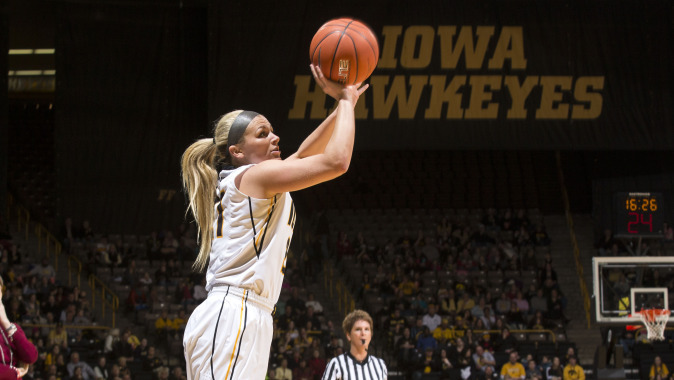 March 30, 2015
IOWA CITY, Iowa — University of Iowa women's basketball senior guard Melissa Dixon has been selected to compete in the 2015 State Farm 3-Point Championship. The event will take place Thursday, April 2, at Butler University's Hinkle Fieldhouse in Indianapolis.
The State Farm College Slam Dunk and 3-Point Championships invites the top seniors in the country to compete — eight dunkers and eight men's and eight women's 3-point shooters. This is the 27th year of the event, which is always hosted in the Men's Final Four city.
The event is televised nationally on ESPN on Thursday from 6 p.m. to 8 p.m. (CT) leading into Final Four weekend, and will air several additional times throughout the weekend.
Dixon, a senior from Johnsburg, Illinois, earned second team All-Big Ten honors this season. She leads the nation in 3-pointers per game (3.65), becoming the first Big Ten player ever to lead the country in 3-pointers per contest, and just the seventh from a major conference school. Dixon ranks sixth nationally, and second in the Big Ten, in 3-point shooting percentage (45.1%; 124-275).
The team co-captain is Iowa's record-holder for 3-pointers in a career (334), season (124), and game (10). The Big Ten single-season record for 3-pointers entering this season was 112. Dixon and Ohio State's Kelsey Mitchell (127) both surpassed the record this year.
Earlier this year, Dixon set a new program record with 10 3-pointers in Iowa's win at Drake, finishing two shy of the NCAA and Big Ten record. Dixon set or tied the arena record for most 3-pointers in a game in at least five venues this season (Drake, Rutgers, Illinois, Northwestern, and Iowa).
The 2013 Big Ten Sixth Player of the Year ranks 12th in career scoring in program history (1,480 points). Dixon ranks 26th in NCAA history in 3-pointers (334).