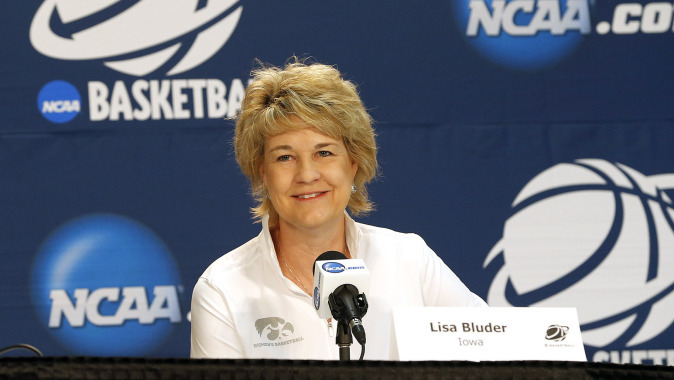 March 31, 2015
COLORADO SPRINGS, Colorado — The University of Iowa's Lisa Bluder, who previously helped USA Basketball to a gold medal as an assistant coach at the 2001 World University Games, today was announced as head coach of the 2015 U.S. Pan American Women's Basketball Team, along with national team newcomers and assistant coaches Michelle Clark-Heard of Western Kentucky University and Scott Rueck of Oregon State University.
The 2015 Pan American Games women's basketball competition will take place July 16-20 in Toronto, Canada. The USA Basketball Women's Junior National Team Committee selects players and coaches for the 2015 U.S. Pan American Women's Basketball Team, and the United States Olympic Committee approves the coaching staff.
"This is a combination of veteran coaches who have had significant collegiate success in combination with some international experience," said Jim Foster (University of Tennessee-Chattanooga), chair of the junior national team committee. "They are a well-rounded group who will help us in our pursuit of a gold medal."
Bluder recently completed her 15th season (2000-01 to present) as the Hawkeyes head mentor, where she has compiled a career record of 304-174 (all records as of March 31). In her 31 years overall as a head coach, she owns a mark of 660-316. Bluder has led Iowa to 14 postseason appearances and eight NCAA Tournaments over the past eight seasons. Iowa entered the 2015 NCAA tournament as a No. 3 seed and recorded wins over American University and the University of Miami to reach the Sweet 16, before falling to Baylor University to finish the season 26-8.
"It is an honor to be selected to coach a USA Basketball team," Bluder said. "I had such a wonderful experience as an assistant coach for the World University Games, and I am looking forward to working with our elite athletes in the Pan American Games. I don't think there is anything more meaningful than representing your country, and to do it by virtue of coaching the game I love is remarkable.
"I am looking forward to working with and learning from two highly successful coaches," Bluder added. "Both Michelle and Scott are not only winners, but have high integrity and will represent our nation with class. One of the things that I enjoyed about my first experience with USA Basketball was learning from other coaches. I know that I will benefit from their experience and knowledge."
Clark-Heard just completed her third season (2012-13 to present) as head coach at her alma mater, where she has compiled a 76-25 record (all records as of March 31). She also has two seasons of experience as a Division II head coach at Kentucky State University and a combined total of 12 seasons as assistant coach at the University of Louisville, the University of Cincinnati and the University of Nebraska. In 2014-15, Clark-Heard and WKU captured the Conference USA regular season and tournament titles and earned a second-straight automatic berth into the NCAA Tournament. WKU finished the season 30-5, and Clark-Heard earned her second conference coach of the year award in her three seasons at WKU. She is a finalist for the 2015 Pat Summitt Trophy, which is awarded annually to the United States Marine Corp/WBCA NCAA Division I National Coach of the Year.
"I have always dreamed of having the opportunity to be a part of USA Basketball," said Clark-Heard. "Words can't express how honored I am to be able to represent my country by working with the women's basketball team in the Pan American Games. I am truly blessed to have this opportunity.
"I am excited to work with two outstanding coaches in Lisa Bluder and Scott Rueck. I really value the chance to be able to work with these coaches who are excelling at an extremely high level in our game. Lisa has done an amazing job and won everywhere she has coached. She is a winner, and I look forward to working closely with her during the Pan American Games. Scott has done an incredible job at Oregon State. I love watching his teams play. They play so hard and compete at a higher level."
Rueck is in his fifth season (2010-11 to present) as head coach at Oregon State, where he as compiled a 90-71 record (all records as of March 31). He also spent 14 seasons as head coach at Division III George Fox University, where he tallied a 288-88 record. In 2014-15, Rueck led Oregon State to a 27-5 record, which set a program record for wins, a Pacific-12 Conference regular season title and a No. 3 seed in the NCAA Tournament, where Oregon State topped South Dakota State University before falling to Gonzaga University. Coaches and media members named Rueck the 2015 Pac-12 Coach of the Year.
"I could not be more excited about the opportunity to serve as assistant coach for the U.S. Pan American Women's Basketball Team," Rueck said. "To be selected to represent your country is one of the highest honors in sports, and this opportunity is extremely humbling. As an organization, USA Basketball has done so much to be an ambassador for our game, both on and off the court. I'm excited to be a part of the tradition and fulfill a role in writing the next chapter.
"I look forward to sharing the bench with two outstanding individuals and coaches in Lisa Bluder and Michelle Clark-Heard. Their resumes speak for themselves, and the success their programs are having is no accident. I will do whatever I can to help this group succeed and know that what I contribute will be matched ten-fold in what I am able to learn from our coaches and players. I am especially appreciative of the support of our administration, our team, and staff at Oregon State University. Without them, this opportunity would not be possible."
Trials for the 12-member roster for the 2015 U.S. Pan American Women's Basketball Team will take place May 14-17 at the U.S. Olympic Training Center in Colorado Springs, Colorado, and the team is expected to be announced on May 17.
The selected players and coaching staff will return to Colorado on July 3 for the start of training camp and will depart for the competition in Toronto on July 8. Players eligible for this team must be U.S. citizens who are currently enrolled as full-time college students with remaining eligibility for the 2015-16 school year.