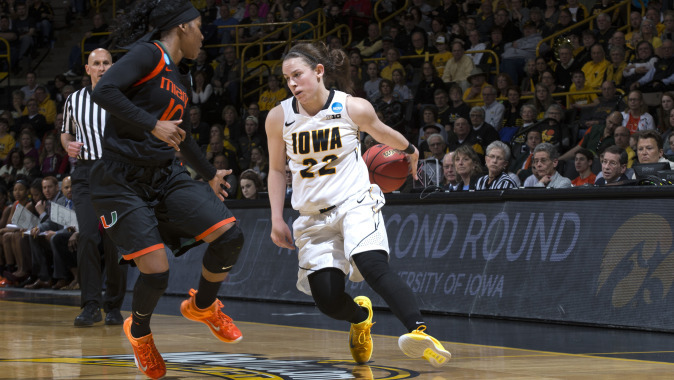 March 31, 2015
IOWA CITY, Iowa — University of Iowa women's basketball senior point guard Samantha Logic has been named an All-American by the Associated Press. Logic was named to the third team.
"This is another great and well-deserved honor for Sam," said UI head coach Lisa Bluder. "We are proud of all the accomplishments and awards that she is achieving at the end of her Hawkeye career."
Last season, Logic earned honorable mention All-America honors from the Associated Press. Logic is the fifth Hawkeye to garner Associated Press All-America honors, joining Amy Herrig (1999), Cara Consuegra (2001), Kachine Alexander (2010, 2011), and Jaime Printy (2011).
Earlier today, Logic joined former Hawkeyes Michelle Edwards (1987-88) and Necole Tunsil (1993-94) as a USBWA All-American.
Last week, Logic was named a Women's Basketball Coaches Association (WBCA) All-Region 6 selection for the second-straight year. Logic is among 52 candidates nationally that will be considered for the 10-member WBCA Division I Coaches' All-America Team. She is the first Hawkeye since Kachine Alexander in 2010-11 to earn multiple all-region honors, and the fifth in program history, joining Alexander, Michelle Edwards (1987, 1988), Toni Foster (1992, 1993), and Franthea Price (1989, 1990).
Logic, named a second team All-American by ESPN, is also one of five finalists for the Nancy Lieberman Award, and was one of 15 players named to the ballot for the John R. Wooden Award. She was a 2014-15 `Wade Watch' candidate, named to the Naismith Trophy Women's Midseason 30 List, and to the Dawn Staley Award watch list.
The Racine, Wisconsin, native is a finalist for the 2015 Senior CLASS® Award and a Capital One Academic All-American. On March 2, she was named Big Ten Player of the Week and ESPN's National Player of the Week.
Logic, a unanimous first team All-Big Ten pick for the second consecutive season, became the first Hawkeye since Alexander (2010, 2011) to earn first team All-Big Ten honors more than once, and the ninth in program history. She has been recognized by the conference in each of her four seasons, earning third team honors as a sophomore and all-freshman team distinction.
Logic led Iowa to the Sweet 16 and was one of five players named to the Oklahoma City Regional All-Tournament Team. She registered her sixth career triple-double in the Sweet 16 against Baylor on March 27, finishing with 13 points, 10 rebounds, and 14 assists. Her six career triple-doubles mark the second-highest total in NCAA history. It also marks only the 14th triple-double in the history of the NCAA Tournament. Logic's 14 assists are an Iowa NCAA Tournament record.
Logic (5-foot-9) is the only player in NCAA history to accumulate at least 1,500 career points, 900 rebounds, 800 assists, and 200 steals. She ranks first in program history in career assists (898) and starts (135), second in steals (260) and rebounds (922), and 10th in scoring (1,546).
Logic, the NCAA's active career assists leader (898), ranks second in assists in Big Ten history and 11th in NCAA history. She leads the Big Ten and ranks third in the NCAA in the category this season (8.1), while also averaging 13.4 points and 7.0 rebounds per game. Logic, the Big Ten's assists leader the last three years, is the only player nationally to average at least 11 points, seven assists, and seven rebounds per game.
Logic is tied for the third-most triple-doubles in NCAA history (six), and the most by any player as a member of the Big Ten. Suzie McConnell of Penn State (1985-88) and Louella Tomlinson of St. Mary's (CA) (2008-11) hold the career record with seven.
As a junior, Logic earned honorable mention All-America honors from the Associated Press and the WBCA. She was a unanimous first team All-Big Ten selection by the coaches, and a first team selection by the media, becoming the 18th Iowa player to garner first-team All-Big Ten honors, marking the most of any Big Ten program.