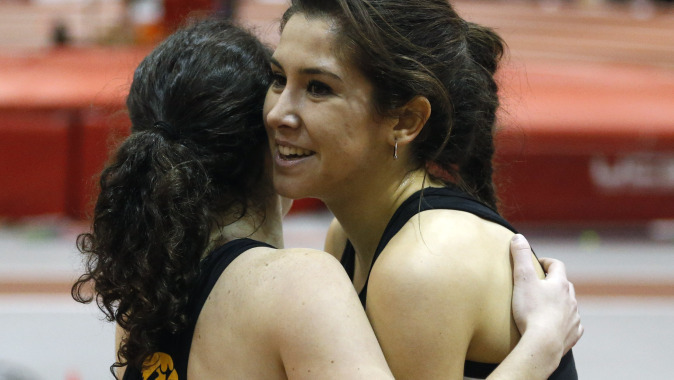 April 3, 2015
Stanford Invite Final Results

| San Francisco Final Results

PALO ALTO, Calif. — Freshman Marta Bote Gonzalez set a new school record in the women's 3,000-meter steeplechase Friday at the prestigious Stanford Invitational in Palo Alto, California. Bote Gonzalez, of Merida, Spain, finished second in her section when she crossed the finish in a personal best 10:23.15, topping the previous school record of 10:26.54 put in place by Danielle Berndt in 2011.
The Hawkeyes also received a career-best performance from senior Kevin Lewis (28:59.62), who shaved nearly 12 seconds off his personal best time in the men's 10,000 meters. His name continues to stand third on Iowa's all-time list.
"It was a good day for Marta and Kevin, and there was some great progress from the rest of the group," head coach Layne Anderson said. "Kevin looked recovered from his illness and back in a good rhythm. Marta looked poised in her race and ran an outstanding steeple debut for 2015."
Also in the mix for Iowa were seniors Ben Witt (14:25.99) in the men's 5,000 meters and Shannon Maser (4:45.38) in the women's 1,500 meters.
Two student-athletes represented the Hawkeyes at the San Francisco Distance Carnival in San Francisco, California, on Friday. Sophomore Tess Wilberding logged a personal best performance in the women's 1,500 meters at 4:40.56, while redshirt sophomore Daniel Huff (14:36.69) raced in the men's 5,000 meters.