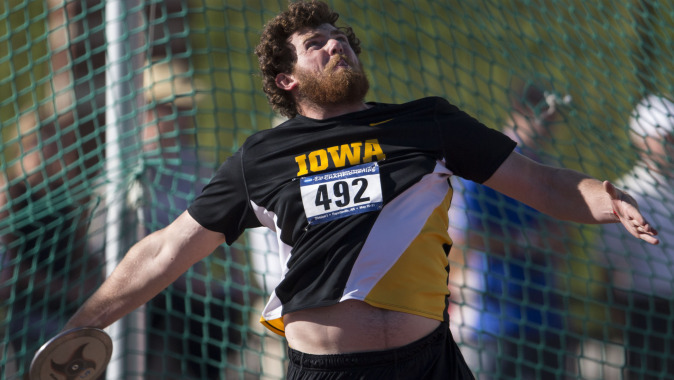 April 4, 2015
Complete Results

GAINESVILLE, Fla. — The University of Iowa track and field team had four individuals and eight relays compete during the final day of action at the Florida Relays in Gainesville, Florida, on Saturday.
The Hawkeyes recorded a host of fifth- and sixth-place finishes on the day.
Senior Annemie Smith (193-00 ft., 58.84m) opened for Iowa with a fifth-place finish in the women's special invite hammer throw.
Senior Gabe Hull and junior Kevin Spejcher registered sixth-place finishes and season-best performances in their respective events. Hull recorded a toss of 184-05 feet (56.22m) on his first attempt in the men's special invite discus throw, while junior Kevin Spejcher cleared 6-11.00 feet (2.11m) in the special invite division of the men's high jump.
Sophomore Avery Meyers (19th) produced a season-best performance on his third and final throw in the men's shot put. Hull (12th) competed in the special invite round, posting another season best 56-03.75 feet (17.16m).
"Today we had some ups and downs in the field events," director of track and field Joey Woody said. "It was highlighted by season-best performances from Gabe and Kevin. Kevin also had some great attempts at 7'1".
On the track, the women's 400-meter relay was the highlight of the day for the Hawkeyes. The quartet featuring MonTayla Holder, Elexis Guster, Lake Kwaza, and Brittany Brown clocked a season-best time of 44.94 to finish sixth, overall.
The men's 1,600-meter relay of Mitch Wolff, Brendan Thompson, Aaron Mallett, and Will Teubel collected a fourth-place finish in 3:09.46.
"The women's 400-meter relay had a great time that will be ranked high in the NCAA and the Big Ten," Woody said. "The men's 1,600-meter relay competed very well with a season-best performance and a time that should qualify for the NCAA First Round."
"Overall, this was a great meet for us as a program. We continued to see many personal bests, all-time top 10 performances and NCAA qualifying marks."
Iowa returns to action April 17-18 for the Mt. Sac Relays in Walnut, California.
Relays:
M 1,600-Meter Relay
4. Wolff, Thompson, Mallett, Teubel (3:09.46)
W 1,600-Meter Relay
4. Lake Kwaza, MonTayla Holder, Brittany Brown, Elexis Guster (3:42.49)
W Distance Medley Relay
5. Katharina Trost, Sheridan Champe, Kaitlyn Nelson, Anne Reischmann (12:01.69)
W 400-Meter Relay
6. Holder, Guster, Kwaza, Brown (44.94)
M Distance Medley Relay
6. Sam Fourman, Wolff, Carter Lilly, Michael Hart (10:10.65)
M 3,200-Meter Relay
9. Daniel Gardarsson, Hart, Samuel McElhiney, Ryan Dorman (7:56.99)
W 1,600 Sprint Medley
9. Jahisha Thomas, Champe, Nelson, Mahnee Watts (3:59.35)
M 1,600 Sprint Medley
16. Thompson, James Harrington, Brennan Davey, Teubel (3:29.56)