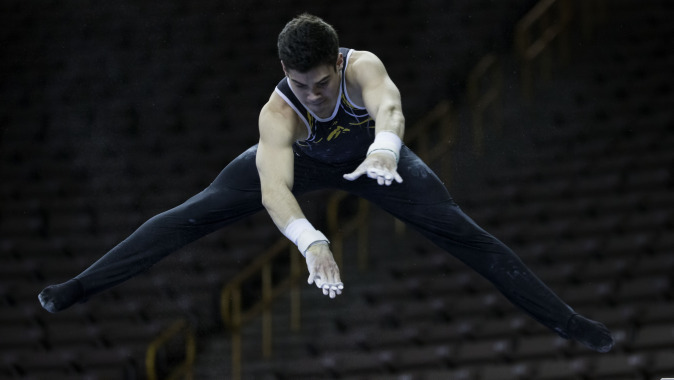 April 6, 2015
Editor's Note: The following first appeared in the University of Iowa's Hawk Talk Daily, an e-newsletter that offers a daily look at the Iowa Hawkeyes, delivered free each morning to thousands of fans of the Hawkeyes worldwide. To receive daily news from the Iowa Hawkeyes, sign up HERE.
BY JACK ROSSI
IOWA CITY, Iowa — Training year-round as a gymnast can be tough on the mind and body. For University of Iowa junior Del Vecchio Orozco, the gym is a place where he can be himself.
Following last weekend's Big Ten Championships, the Des Plaines, Illinois, native was honored with the 2015 Sportsmanship Award for Iowa. An award given to a gymnast on each team that displays positive sportsmanship along with good citizenship outside of the gym. Each team gets to nominate one gymnast on the team.
"As we were going through the team and figuring out who we wanted to nominate, Del just jumped out as somebody who was rallying the team in the weeks leading into the Big Ten Championships," assistant coach Ben Ketelsen said. "He stepped up in keeping everybody positive and moving everybody forward in preparation for the meet."
Orozco has been Iowa's most consistent gymnasts this season on pommel horse and high bar, but despite missing the cut for individual finals, he was happy leaving with something.
"I liked winning (the award)," Orozco said. "I was disappointed with my performance during Big Tens, so walking out with this award means a lot to me."
As one of the more vocal gymnasts on the team, Orozco's up-beat personality can keep the team loose in the most stressful situations.
"He's a little goofy," Ketelsen said. "He brings that light-hearted playfulness. In this sport you can get overly stressed out about wanting to perfect everything. He just brings relief to that stress."
Orozco says his high energy level can be attributed to coffee and number of cups he consumes daily.
"I am a coffee enthusiast," Orozco said. "I do drink about 3-4 cups of coffee right when I wake up. I've been drinking coffee since I was nine, and I grew up in a Columbian household so it just came natural to me."
When not competing, Orozco can be found pumping up his teammates getting ready to perform.
"I try and get loud and give them some of my energy," Orozco said. "I try to amp them up at the chalk bucket or cheering them on and giving them positive vibes. When I come to practice it is play time for me. These are the only friends I have on campus, so I have fun with them even if it's a tough practice. I thoroughly enjoy being around my team."
The coaches see Orozco's energy as a catalyst for the rest of the team and try to place him earlier in the lineup. That won't change as the team looks ahead to its final meet of 2015.
"We've counted on him all season long on pommel horse and high bar," Ketelsen said. "We put him early in the lineup because we trust him to hit and set up everybody else on the event."
The Hawkeyes compete in the NCAA Championships from April 9-11 in Norman, Oklahoma.