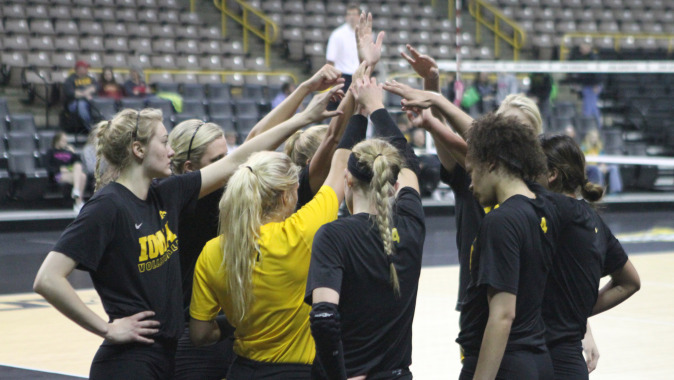 April 8, 2015
Video Interview with Shymansky |

Photo Gallery
IOWA CITY, Iowa — After seeing his team compete with other teams in two spring scrimmages in the last four days, University of Iowa head volleyball coach Bond Shymansky is encouraged by what is happening on the court.
"We've had some good individual performances and I thought our group competed hard," Shymansky said. "We're working on a lot of things in the spring and everyone is playing, so that's fun.
"We're watching players expand their abilities and their roles. We're watching new players do things we didn't know they could do yet, so it's been a spring of discovery for our group."
Newcomers in setter Loxley Keala and middle/right side hitter Ashley Mariani have done a nice job adjusting to the Hawkeye offensive system, and returners like Alyssa Klostermann are getting their feet wet in new roles in the team's dynamic.
"Ashley Mariani was a great surprise for us tonight and was a star play for us in a lot of ways," Shymansky said. "We're putting a lot of responsibility on her and she's stepped up to the challenge."
Klostermann spent her first two seasons on the roster as a setter, before taking on the role as Iowa's libero in the spring semester.
"I really like what Alyssa Klostermann is doing for us right now in the back row," Shymansky said. "The shift from being our setter last year to our libero this year is a big shift, but she's taking it on and really performing well."
The Hawkeyes head to UNI to play in a tournament on April 11, before closing the spring slate at home with a scrimmage against Drake on April 18 at 1 p.m. (CT) inside Carver-Hawkeye Arena.
"I like what the whole team is doing as a unit," Shymansky said. "I feel like we have a lot of balance right now than we've had in the past. That's going to help us.
"Over the span of the next two weeks I know we're going to continue to grow and feel that confidence, teamwork, and chemistry."