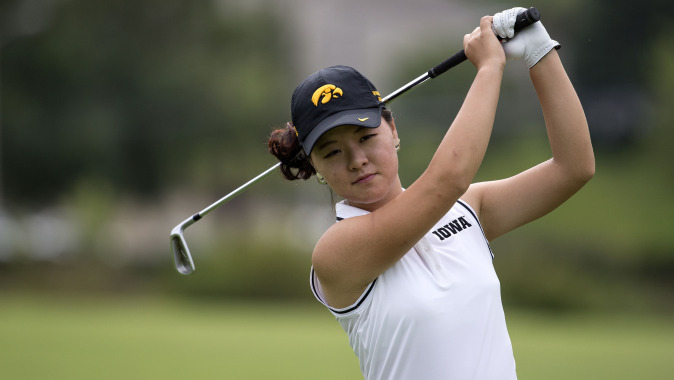 April 9, 2015
Q: What is it like working with coach Menzel and coach Selders?
A: Both coaches are always willing to help. They provide a positive foundation to the team by motivating and offering wisdom to each player to stride towards individual and team goals.
Q: What led to you to Iowa City and the Hawkeye golf program?
A: The academic environment, coaches, and golf facilities.
Q: What facet of your game has improved the most since last spring?
A: My distances in all clubs have increased by at least ten yards.
Q: What are the team goals for the spring season?
A: The team's goal is to improve in scoring average and place in the top half of every tournament.
Q: What did you do over the winter break?
A: I worked on my mechanics with my swing instructor and visited my family.
Q: What was your favorite golf memory growing up?
A: My favorite golf memory was winning the fourth 6A state championship senior year with my high school teammates.
Q: What was the last movie you saw in theaters and what did you think of it?
A: I haven't seen a movie in theaters in years, so I don't have any distinct memories.
Q: What do you like to do in your free time?
A: I like to take naps, watch TV shows, and hang out with my family and friends.
Q: What is your favorite home-cooked meal when you go home and why?
A: All of my mom's home cooked meals. There are a few Korean restaurants and markets in Iowa City, but nothing substitutes for my mom's cooked meals.
Q: What is your favorite Hawkeye memory so far?
A: Team challenges, because it provides a competitive environment, and it also strengthens our team chemistry.
The Hawkeyes return to action on April 18-19 to take part in the Lady Buckeye Invitational in Columbus, Ohio.