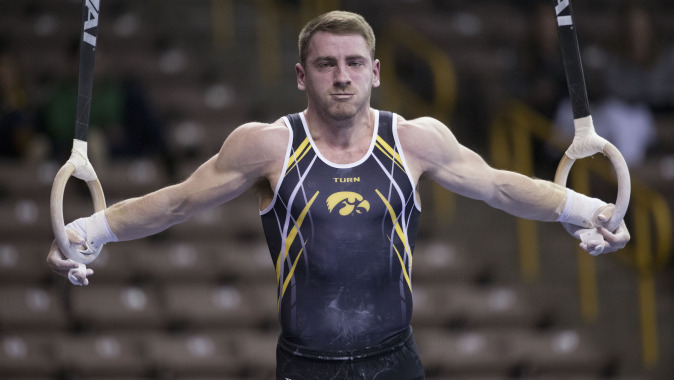 April 10, 2015

Photo Gallery
NCAA Team Finals

NORMAN, Oklahoma — The University of Iowa men's gymnastics team placed sixth in the team finals of the NCAA Championship on Friday night.
Host Oklahoma (447.050) won the meet followed by Stanford (440.450), Penn State (439.500), Michigan (437.650), U.C. Berkeley (432.100), and Iowa (427.450).
""I am super proud of the kids," head coach JD Reive said. "They made it to team finals and that was the goal. It was tougher today because of some injuries, but the guys performed very well."
Iowa began on high bar, setting a new season high with a score of 72.200. Junior Jack Boyle led the team, tying for ninth with a score of 14.850. Sophomore Cory Paterson's 14.800 effort resulted in an 11th place result, while junior Cyrus Dobre-Mofid finished with a score of 14.500 for 22nd place.
The Hawkeyes set a season high on floor exercise for the second time in NCAA Championship action with a score of 73.800. Boyle led the team again, notching a 15.000 and placing 21st. Dobre-Mofid tallied a 14.850 to finish 27th. Seniors Brandon Field and Lance Alberhasky both tied for 28th, with scores of 14.750.
Iowa fell behind the competition on pommel horse. Two freshman led the Hawkeyes on the event, as Austin Hodges (11th) and Elijah Parsells (18th) posted scores of a 14.600 and 14.250, respectively. Junior Doug Sullivan recorded a 13.500 for 29th place.
The team got back on track on rings. Boyle paved the way with a 15.100, finishing tied for 13th. Alberhasky tied for 22nd with a score of 14.900, while senior William Albert finished 25th with a 14.850 effort.
With two events remaining, Iowa headed to vault, where sophomore Andrew Botto led the team with a 22nd place finish and a score of 14.700. Dobre-Mofid and Paterson both scored a 14.500 on their way to 27th place finishes. Paterson's score marked a season high.
In the final event, Iowa looked to finish strong on parallel bars. Dobre-Mofid led the team with a 14.100, placing 28th. Paterson followed with a 13.900, finishing in 36th, while freshman Dylan Ellsworth scored a 13.700 for 38th place.
Akash Modi from Stanford won the all-around competition with a score of 90.450.
Boyle will compete in the event finals tomorrow for the final day session of the 2015 NCAA Championships. Event finals are scheduled to begin at 7 p.m.