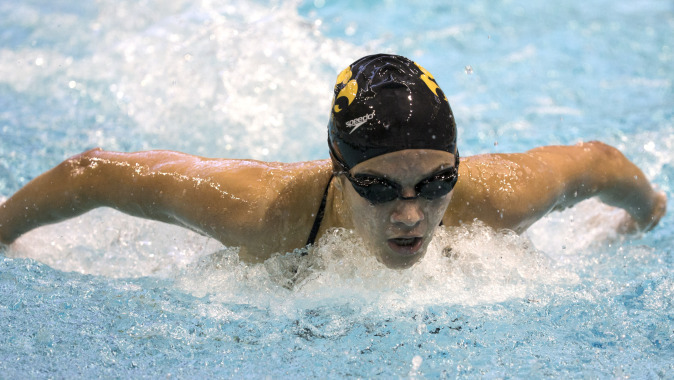 April 16, 2015
24 Hawkeyes to Watch

IOWA CITY, Iowa — University of Iowa freshman Tereysa Lehnertz posted a pair of top-four finishes at the Mayaguez Swimming International Open II from April 8-12, in Mayaguez, Puerto Rico, in preparation for national competition this summer.

The Iowa City, Iowa, native posted two first-place finishes in the 50-meter butterfly (28.37) and 200-meter butterfly (2:16.84). Lehnertz' time in the 200-meter butterfly meets the Pan American Games "A" cut Standard.

Lehnertz also finished fourth overall in the 100-meter butterfly, touching out with a "B" cut standard time of 1:02.67.

Qualifying times for the Pan American Games in Toronto will be decided at a later time and determine whether Lehnertz will compete with the Puerto Rican National team in Canada for the Pan American Games, or in Kazan, Russia, for the World Championships.

Each nation at the Pan American games is allowed up to 18 men and 18 women on their roster, up to two entries in each individual event and one relay.