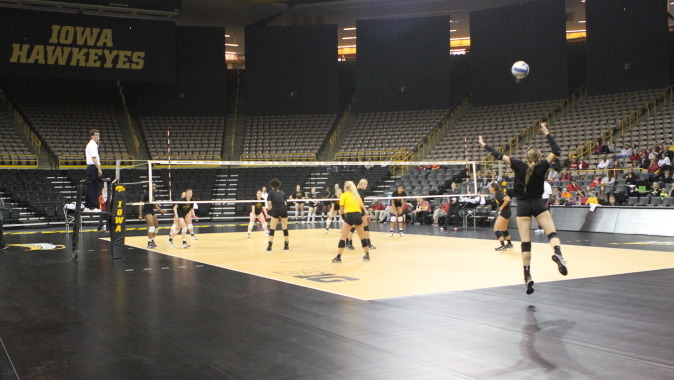 April 17, 2015
IOWA CITY, Iowa — The University of Iowa volleyball team welcomes Drake on Saturday, April 18, for its final spring scrimmage on Mediacom Court inside Carver-Hawkeye Arena. The competition, which begins at 1 p.m. (CT), is open to the public with free admission.
The teams run through a variety of drills before resuming an abbreviated match format. It is a great opportunity for Hawkeye fans to get an inside look at what a practice is like and how the program is progressing under head coach Bond Shymansky.
"It's a free and easy access type of event," Shymansky said. "We want families to come out and kids to enjoy it and be inspired to be great college volleyball players someday.
"And for the true fans and volleyball junkies it lets them get closer to the action and watch the teams do more than just scrimmage. We'll do drills against each other and the pace of that is more intense, so it can be a unique look at what practice is like in a college environment."
The Hawkeyes are coming off of a big tournament weekend at UNI, where they faced five teams — South Dakota, Iowa State, Northern Illinois, Iowa Ice, and UNI — in the same day.
"There was a lot of competition for us, we played five teams in one day," Shymansky said. "It was good to watch our team endure and persevere through the physical rigors of staying focused and working hard all the way through a long day like that."
Shymansky has seen increased production from the left side group, including Lauren Brobst and Ashley Mariani, throughout the spring. Additionally, setter Loxley Keala has been able to learn and adapt to the offensive scheme, and Alysssa Klostermann has had continued success in her transition to the back row as the team's libero.
The entire team has been able to grow in the spring with every player on the roster seeing time on the court.
"It's good because everyone on our current roster has been in action," Shymansky said. "Everybody is growing and experiencing new things on the court, and those things will help shape their overall game. It's been a productive spring."