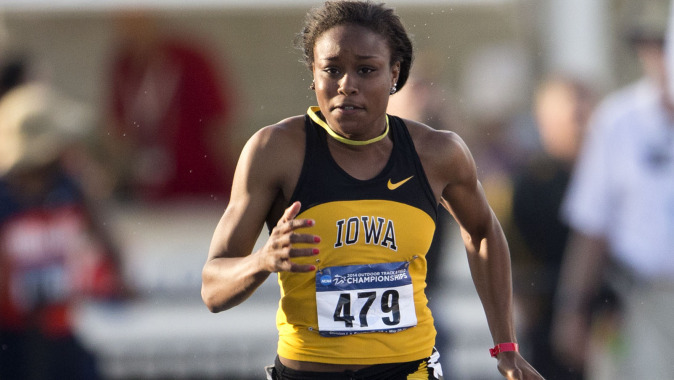 April 17, 2015
California Invite Men's Dec 1

|
California Invite Men's Dec 2

| Final Results – Mt. Sac Relays

WALNUT, Calif. — University of Iowa track and field junior Lake Kwaza got off to a fast start Friday at the 57th Annual Mt. Sac Relays in Walnut, California. The event was held at the Hilmer Lodge Stadium on the campus of Mount San Antonio College.
Kwaza broke the women's 100-meter dash school record when she sprinted to the finish in a winning time of 11.40, topping the previous school record of 11.45 set by Vivien McKenzie in 1985. Her time would rank seventh nationally and first in the Big Ten.
Sophomore Brittany Brown followed with a ninth-place finish in the event with a personal best 11.53. That time registers third on Iowa's all-time list.
Sophomore Vinnie Saucer, Jr. (15th) led Iowa in the men's race with a personal best 10.44.
"Overall, it was a great day," director of track and field Joey Woody said. "I was really happy for Lake. She has been having some ups-and-downs this season, and she put it together today. I was also pumped for Vinnie. I knew a big performance was coming for him. That was a huge collegiate PR and he hasn't run close to that time since junior year of high school."
Senior Jack Eckert and redshirt freshman William Dougherty set the tone for the Hawkeyes with personal-best performances in the decathlon at the California Invitational on Thursday. Eckert moved to second on Iowa's all-time list when he tallied a total of 7,094 points to finish first in one of two sections. Dougherty claimed ninth in the first section with a point total of 6,735, a mark that ranks fifth in program history.
Also adding his name to Iowa's all-time list is freshman Carter Lilly (7th) in the men's 800 meters. The Sioux City, Iowa, native clocked the ninth-fastest time in school history at 1:50.12. Junior Will Teubel (1:51.20) came in 13th, overall. Sophomore Katharina Trost (16th) represented the Hawkeyes in the women's race, crossing the 800-meter mark in 2:09.88.
Junior Kevin Spejcher was victorious in the men's high jump when he cleared the bar at 7-00.25 feet (2.14m). That mark would rank fourth in the Big Ten.
The Hawkeyes received a pair of top five finishes in the men's 400-meter hurdles from junior Mitch Wolff (4th; 52.08) and sophomore Aaron Mallett (5th; 52.34).
In the field for Iowa, senior Gabe Hull grabbed a fourth-place finish in the men's discus with a season-best toss of 57.51 meters (188-08 ft.), while sophomore Avery Meyers (53-02.25, 16.21m) nabbed 12th in the men's shot put. Senior Annemie Smith (189-10 ft., 57.86m) grabbed a seventh-place finish in the women's hammer throw.
Two Hawkeyes made season debuts in the men's triple jump. Senior Babatunde Amosu (50-04.50 ft., 15.35m) and junior Klyvens Delaunay (50-02.00 ft., 15.29m) notched sixth- and seventh-place finishes, respectively.
Kwaza returned to the track for the 200 meters when she raced to 10th place, respectively, in a personal best 23.59. Her name will appear third in conference rankings, as well as on Iowa's all-time list.
A host of Hawkeyes approached the starting blocks for the 400 meters. Senior Brennan Davey (29th; 48.25), junior Brendan Thompson (40th; 48.78), and sophomore Jared Ganschow (44th; 48.85) competed for the men, while sophomore Sheridan Champe (40th) clocked a personal best 56.29 in the women's race.
The men's 1,600-meter relay of Wolff, Thompson, Mallett, and Davey took the title in a season-best time of 3:08.23.
"It was a breakthrough race for the 4×4," Woody said. "That type of performance was right around the corner for them. They all ran close to their best times, although I know more is in the tank. Mitch got the relay out in front and we were able to have a clean lead from there."
Iowa resumes competition tomorrow at 3:15 p.m. (CT).