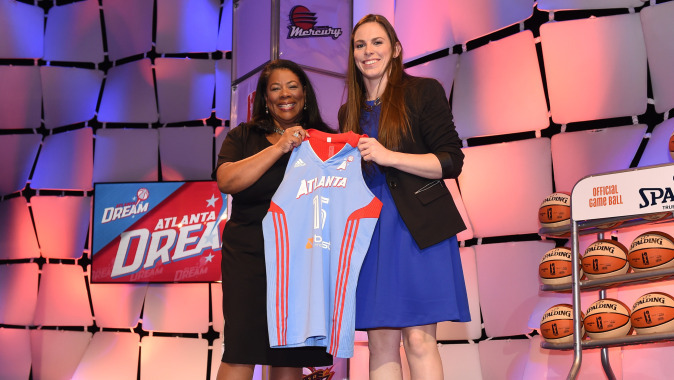 April 17, 2015
By JIL PRICE
hawkeyesports.com
IOWA CITY, Iowa — Last night on live television, University of Iowa senior Samantha Logic's dream of playing in the WNBA came true. With the 10th pick in the First Round, the Atlanta Dream selected the point guard, who shared the moment with her parents, Julie and Steve, and her coaches.
"It's a great experience and not a lot of people get to be here," Logic said after hearing her name called. "I'm just blessed and happy to head to Atlanta."
Her excitement quickly turned to determination, as Logic set her sights on her role with the Dream.
"Shoni Schimmel and Angel McCoughtry are obviously the two big names there; they're dynamic players and just fun to watch," Logic said. "I think it's going to be fun to play with them. I'm going to get to training camp and work hard.
"Anytime you have scorers on your team it makes a point guard's eyes light up. You are just excited to play with them because you have an inside and outside presence there. I'm looking to put my teammates in a great position to make us successful. I'm going to go there with open ears, ready to listen and learn."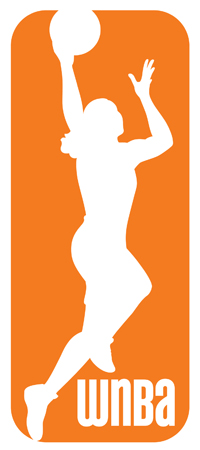 The same determination to be her best combined with her ability to learn and develop at Iowa allowed Logic to accomplish elite feats and solidify her name as one of the best ever to wear the Black and Gold.
Logic, the only player in NCAA history to accumulate at least 1,500 career points, 900 rebounds, 800 assists, and 200 steals, became the fourth consensus All-American in Iowa women's basketball history. She garnered USBWA, Associated Press, and WBCA All-America honors, and was also named a second team All-American by ESPN in 2015.
The Racine, Wisconsin, native capped her career in fitting fashion, tallying her sixth career triple-double in Iowa's Sweet 16 matchup against Baylor. The 14 assist, 13 point, 10 rebound performance ties her for the third-most triple-doubles in NCAA history and the most by any player as a member of the Big Ten Conference.
Her versatility on the court caught the eye of Atlanta Dream head coach Michael Cooper.
"Logic is a versatile guard who brings a great deal of leadership, and is a player that's going to come out and compete at a whole other level," Cooper said. "She's a stat stuffer, and that's what I love about her. She'll go rebound, she'll get her assists, she'll get her steals, she'll get her points, and I think those things will help the team."
Atlanta Dream president and general manager, Angela Taylor, echoed Cooper's sentiments, complimenting Logic's ability to influence many facets of the game.
"We're thrilled to have Samantha Logic join the Dream," Taylor said. "She's a tough, competitive player that our fans are really going to enjoy watching. Everyone I spoke to about her talked about her competitiveness and that she'll do whatever it takes to win, whether it's scoring, getting to the line, getting the ball to the right person or rebounding – she's one of the best rebounders in the business at the guard position.
"She has a bright future in this league, and we think she is going to fit in well with our competitive vibe as we build our championship roster."
Logic, a unanimous first team All-Big Ten pick for the second consecutive season, became the first Hawkeye since Kachine Alexander (2010, 2011) to earn first team All-Big Ten honors more than once, and the ninth in program history. She was recognized by the conference in each of her four seasons, earning third team honors as a sophomore and all-freshman team distinction.
The Racine, Wisconsin, native was also the 2015 Senior CLASS Award winner, a Capital One Academic All-American, and a three-time Academic All-Big Ten honoree in her career.
Logic was one of five finalists for the Nancy Lieberman Award, and one of 15 players named to the ballot for the John R. Wooden Award. She was a 2014-15 `Wade Watch' candidate, named to the Naismith Trophy Women's Midseason 30 List, and to the Dawn Staley Award Watch List.
Her draft status only further demonstrates her dedication on and off the court.
"It is amazing," head women's basketball coach Lisa Bluder said. "First round pick, top 10, going to Atlanta; Sam is thrilled. We're all thrilled for her to achieve this dream that she's worked so hard for. To see it happen for her and to be a part of it is a true blessing.
"This is a possibility; your dream can come true if you come to Iowa. We have a kid in Samantha Logic who came here from Racine, Wisconsin, and now she's a first round draft pick. If you work hard and believe, it can happen to you."
Logic is the 12th player to be drafted in program history and the first pick since 2011, when Kachine Alexander was selected by the Minnesota Lynx. She is the second Hawkeye to be drafted in the first round, joining Toni Foster (eighth pick, 1997).