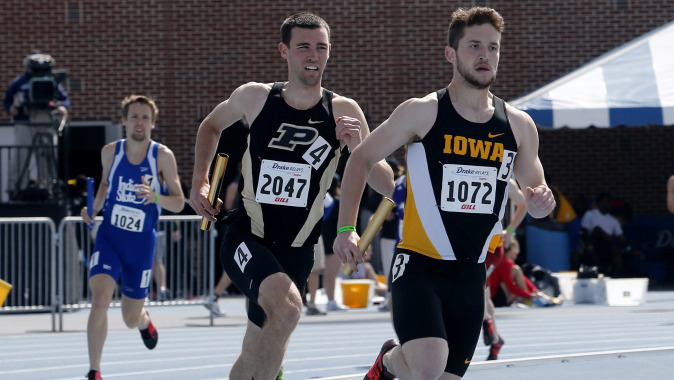 April 18, 2015
Complete Results

NORWALK, Calif. — The University of Iowa track and field team capped a successful trip to the Golden State this weekend with eight career bests at the Beach Invitational hosted by Long Beach State University on Saturday. The event was held at Cerritos College in Norwalk, California.
"We had one of the best meets since I've been at Iowa," director of track and field Joey Woody said.
The Hawkeyes got off to a solid start in the field events when freshman Jahisha Thomas leaped to a second-place finish in the women's long jump. The London native recorded a personal-best mark of 19-08.25 (6.00m), which moves her to fifth on Iowa's all-time list and would rank third in the Big Ten. Junior Kassidy Ellis (18-04.25, 5.59m) finished 10th overall.
Junior Will Teubel also climbed to fifth on Iowa's all-time list when he registered a career-best performance in his second 800-meter race of the weekend. The Lisbon, Iowa, native placed second, respectively, in 1:48.60. His time would also rank fifth among the Big Ten. Freshman Carter Lilly (1:50.38) finished 11th overall, while sophomore Katharina Trost (2:10.72) was the 12-place finisher in the women's race.
"Will was one of the big highlights of the weekend," Woody said. "He was coming off of a rough day yesterday and ran a huge PR today. Jahisha also had a great day today with a big collegiate PR."
Sophomore Alex Balke (201-04, 61.38m) took third in the men's javelin, improving by nearly five meters on his first attempt. He moves to eighth on Iowa's all-time list.
Also posting her best mark of the day on the opening throw was Dakotah Goodell in the women's competition. The junior threw the javelin 144-05 (44.03m) to finish sixth, respectively, before claiming 15th (154-03, 47.01m) in the discus.
Two more Hawkeyes rounded out the field events for Iowa. Junior Kerry Dean Jr. (5th; 23-03.25, 7.09m) in the men's long jump and freshman Leah Colbert (19th), who logged a personal best 167-02 (50.95m) in the women's hammer throw.
Junior Mitch Wolff (52.28) raced to a fourth-place finish in the men's 400-meter hurdles, while sophomore Jared Ganschow (13th) closed the men's 200 meters in a collegiate best 21.81.
Iowa had four competitors in the women's 1,500 meters. Freshman Alana Jones (15th; 4:31.82) was the top finisher for the Hawkeyes followed by junior Anne Reischmann (16th) in a personal best 4:32.43. Freshman Marta Bote Gonzalez came in 25th (4:34.55), while sophomore Tess Wilberding (33rd) clocked a collegiate best 4:36.60.
Junior Sam Fourman (9th) paced the Hawkeyes in the men's race when he crossed the 1,500-meter mark in 3:50.04, while senior Ben Witt (3:53.08) finished 18th, respectively, followed by freshman Daniel Gardarsson (20th), who clocked a personal best 3:53.74.
Senior Brennan Davey (19th; 48.73) and freshman Nicholas Aly (28th; 49.16) competed in the men's 400 meters, while freshman Sheridan Champe (33rd; 57.39), sophomore Mahnee Watts (47th; 58.45), and junior Kaitlyn Nelson (49th; 58.48) contested in the women's race.
"This is a great sign of things to come over the next few weeks starting with the Drake Relays next weekend," Woody said.
The Drake Relays begin April 22 and continue through April 26 at Drake University in Des Moines, Iowa.